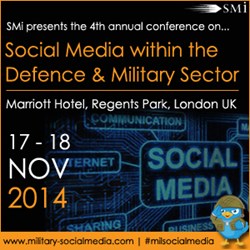 'I am most interested in sessions that deal with the identification of valid/relevant data and the tools and techniques that work best for filtering out the noise.'- Texifter
London, UK (PRWEB UK) 26 August 2014
Defence institutions are increasingly investing in ways to collect and examine social-media postings as a source of intelligence. The effectiveness of this was highlighted last month when, minutes after a Malaysia Airlines Flight went down, a DIA analyst sifting through social-media communications saw a post reporting the incident with details on who was responsible. *Source http://on.wsj.com/UZPY3s
Hear more on real time updates through Social Media and the tracking of foreign fighters at SMi's 4th annual conference on Social Media within the Defence and Military Sector in the presentation entitled: Tracking Syrian Foreign Fighters on Social Media.
The talk given by Prof. Peter Neumann, Director from The International Centre from the Study of Radicalization and Political Violence, Kings College London, will discuss:

Social mediated conflict and the facilitation of real time updates through social media
Analysing accounts – Fighter, Disseminator, Inspirers
Implications
Other key talks focusing on the operational use of social media include:
Dan Thompson, Chief of Public Affairs, Installation Management Command Europe:
The Limitations of Crowd Sourcing Social Media Intelligence

Captain Kristian Soendergaard, SME Info Ops & PsyOps Department of Joint Operations, Royal Danish Defence College:
Narrative Development in Operations

Dan Gabriel, CEO, Applied Memetics LLC (EX CIA)
Digital Influence and Social Media Analytics in Denied Areas
The full speaker line-up and brochure is available to download at http://www.military-socialmedia.com.
SMi Group's conference series on Social Media with Defence and Military is currently the only industry related conference with a focus purely on Social Media. The sell-out event has attracted attendees in the past such as Hoot Suite, MOD UK, BaeSystems, Royal Airforce, Selex, Qinetiq, MOD Singapore and US Army
This year's installment will aim to provide attendees with:
Guidance on best practice – Participants will share ideas to identify cutting-edge developments in data exploration, real time communications, monitoring live conflicts, policy influence and the tracking of foreign fighters
Direction on strategy – The conference will analyse the most effective way of using social media platforms in a military environment through 24 case study driven presentations delivered by MoD's, national armies and private defence companies such as Department of Defense, US Department of State, Airbus Group, Lockheed Martin, NATO, European Commission, European Defence Agency Swedish Armed Forces and Norwegian National Security Authority.
A chance to meet industry specialists – Industry leaders who are shaping and influencing the social media landscape such as Digital Matchbox, Fieldcraft Studios, Sysomos, 3i-MIND Technologies and Texifter LLC, have all confirmed attendance at this year's conference.
Insights into the future – Social Media Military and Defence 2014 will look ahead into the future of communications with a spotlight on data mining, opportunities in real time communication, community management and campaign strategy.
A Forum to Network - Ample opportunity for discussion, including 2 morning coffee breaks, 2 networking lunches and 2 afternoon tea sessions. SMi Group hope that delegates will be able to make new contacts, meet old friends and immerse themselves in a universe of new insights during the networking sessions.
For those who are interested in attending, there is currently a £100 early bird discount available which expires on September 30th. Further information is available online at http://www.military-socialmedia.com.
Social Media within Defence and Military
17th & 18th November 2014
Marriott Hotel, Regents Park, London UK
http://www.military-socialmedia.com
#MILSOCIALMEDIA
About SMi Group:
Established since 1993, the SMi Group is a global event-production company that specializes in Business-to-Business Conferences, Workshops, Masterclasses and online Communities. We create and deliver events in the Defence, Security, Energy, Utilities, Finance and Pharmaceutical industries. We pride ourselves on having access to the world?s most forward thinking opinion leaders and visionaries, allowing us to bring our communities together to Learn, Engage, Share and Network. We hold events in over 30 major cities throughout the world including London, Paris and Singapore and to date have welcomed over 200,000 participants from 80 countries.
More information can be found at http://www.smi-online.co.uk.