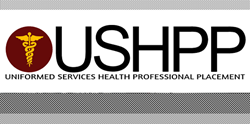 Your professionalism and outstanding service are second to none. USHPP was integral in helping us get to a signed contract.
Lampe, MO (PRWEB) April 14, 2014
Uniformed Services Health Professional Placement (USHPP) offers permanent job placement and transition services specifically designed for the military practitioner who has decided to leave the uniformed service and begin practice as a civilian. A new website offers candidate and client resources and much more.
USHPP was established in 2005. The civilian business was conceived by former U.S. Army Urologist, Dr. Joseph Endrizzi, M.D. and retired U.S. Army Medical Service Corps and Chaplain Corps officer Mark Lenneville, MBA, MDiv. The company was formed to help Active Duty and/or Retired military healthcare workers and their family members find the best possible civilian job in the right location. It was also envisioned that USHPP would provide comprehensive transition advice and counsel to job-seeking candidates as well as be a resource for civilian employers to help them work with former military personnel. "Over the course of the last 8+ years, USHPP has continued to grow and establish itself as a trusted and reliable resource for transitioning military personnel and civilian hospitals and medical groups" reports Mark Lenneville, Managing Partner.
USHPP speaks 'Hoohah." The staff of USHPP takes pride in providing free, trustworthy, competent, timely, relevant and confidential services. To date, over 1000 active duty military physicians have approached USHPP for transition assistance and advice.
Unique in the industry, USHPP makes available a list of their candidates easily accessed on the website.
Check out our website at http://www.ushpp.com.
About Uniformed Services Health Professional Placement
USHPP
Contact:
Mark Lenneville
info(at)ushpp(dot)com
Facebook: ushpp
Twitter: mlenneville
LinkedIn: Mark Lenneville