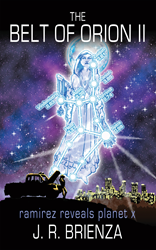 novel continues the parallel life stories of Kelly Ramirez and Rachael Ryan
PITTSBURGH (PRWEB) December 06, 2018
J.R. Brienza's new book, The Belt of Orion II: Ramirez Reveals Planet X ($14.99, paperback, 9781545648131; $2.99, e-book, 9781545648148), is now available for purchase.
The second installation to The Belt of Orion Series, this novel continues the parallel life stories of Kelly Ramirez and Rachael Ryan. Kelly battles for survival while trying to find her partner, Blake, and Rachael unwittingly discovers the role Planet X plays in her life.
Questions of science and religion are woven into well-developed characters, an action-packed adventure, and a believable near future calamity; Cal Tech researchers Batgyn and Brown have compelling data that suggests the existence of a planet beyond our solar system in the Kulper Belt beyond Pluto. This information is the source of scientific skepticism and the internet myth that has capture the imagination of millions of Planet X fans and deniers alike.
J.R. Brienza is an artist, designer, and general contractor who has spent a career helping clients create worlds of their own. Brienza lives in Pennsylvania with her life partner and pets. Her first book was The Belot of Orion: Nibiru Rising.