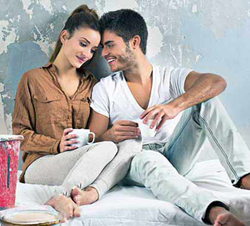 When asked if they planned to purchase a home in the next year, 18–34-year-olds were twice as likely as 35–54-year-olds to say yes. ~ Google Consumer Survey, July 2014
Minneapolis, Twin Cities Minnesota (PRWEB) September 03, 2014
Millennials may feel pounded for postponing marriage commitments, living with family longer and holding homeownership at bay. A recent Google surveys on housing trends offers insights that perhaps perspective Millennial home buyers are simply more studied and logical before tipping their toe into local housing markets. One thing is clear, Millennials go on-line to find real estate trends and opportunities, meaning they may be better informed over previous generations before taking on the responsibilities of buying a home.
"We find that young adult home buyers in the Twin Cities often began their search to buy a home with a keen awareness of the housing market," says Jenna Thuening, owner of Home Destination. "They have already used on-line tools to make better informed buying decisions, determine who to live with, and hone in on the location where they want to buy. Millennials quickly seize the right opportunity to buy a Twin Cities home."
Millennials seize on-line tools and utilize them to ramp up to becoming a participant of the homebuying market. When questioned in a Google consumer survey if they envision buying a home in the next year, 18 to 34-year-olds were 2x as apt to answer affirmatively as prospective homebuyers in the 35 to 54-year-old bracket. While we may not be seeing as many Millennial buyers who can afford a home, we are seeing many confident of their wishes and going forward strong to accomplish it. Typically, this means saving in earnest for a home down-payment.
"Clearly, the place to reach homebuyers is on mobile. Marketers can help them find what they're looking for through mobile ads, and extensions such as location and click-to-call take this a step further," Google analysts summarized. Savvy home buyers overall, in addition to millennials, are turning to their mobile devices to search for real estate listings. Mobile phones ranked highest with 27 percent of all on-line searches conducted to buy a home in June; that represents an increase of 19 percent in just one a year, according to the Google Mortgage Index.
Google's demographic on the Millennial age home buyer include the following additional patterns:

Millennials more frequently use the web, especially mobile search, to prep to buy a home.
They invest more time researching a home purchase. When asked how far in advance of a purchase/sale they'd plan to begin a formal search, 83% of 18–34-year-olds said more than six months (versus 73% for those older than 35)
Millennial homebuyers also have different priorities. Compared to other buyers, millennials place more weight on factors such as neighborhood characteristics, quality of school district and tech rich homes, according to a Move.com survey of U.S. online home searchers conducted in May.
Millennials are being wooed by online sources who promise quick access to information and an edge, according to Brian Bachelier, Scottrade vice president of active trader strategy. The CNBC article titled Look who's in the stock market now: Millennials, talks about how tech stocks are most frequently used by Millennials for added income.
In March of 2014, the National Association of Realtors Home Buyer and Seller Generational Trends study determined that eight out of 10 recent home buyers say their home purchase was a wise financial investment, ranging from 87 percent for "millennial" buyers age 33 and younger, to 74 percent for more senior home buyers the age tier of 68 and older.
"Given that millennials are the largest generation in history after the baby boomers, it means there is a potential for strong underlying demand," said Lawrence Yun, the group's chief economist.
The median age of these young home buyers is 29, their median income is $73,600 and they typically bought an 1,800-square-foot home costing $180,000.
"Millennial home buyers seem to find that Minneapolis is an ideal location to buy a home because it offers strong job growth, a wealth of activities to step into, and affordable home prices," adds Thuening.
About Home Destination - Twin Cities Real Estate:
Home Destination offers a loyal and committed real estate professional service that personally handles all the details of selling or purchasing a Twin Cities home. Highly regarded by peers as a Minneapolis metro expert for over 15 years, gain a skilled representative as guide to make the best possible housing decisions. Helping all ages, from Millennial home buyers to retiring seniors, Jenna Thuening offers the real estate experience buyers and sellers benefit from.
Contact:
Jenna Thuening
Web. http://www.homedestination.com
Email. jenna(at)homedestination(dot)com
Tel. 612-396-7832