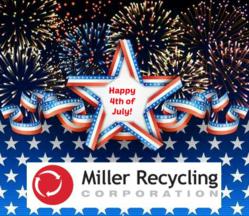 Solutions for a Healthy Planet.
Mansfield, MA (PRWEB) July 01, 2013
As the holiday weekend rapidly approaches, Miller Recycling Corporation would like to take the time to remind everyone to be environmentally friendly this holiday. Holidays tends to generate a large volume of trash. Here are a few tips to make this Independence Day more environmentally friendly, so that future generations can enjoy this earth.
1: RECYCLE!
This one should be a no-brainer by now: gather all soda & beer cans in one bin then do the same with your paper and recyclable plastic.
2: Reduce Waste.
Use cloth napkins and real plates, bowls and utensils. Washing dishes...Just get started! Turn the music on and just go. It's one of life's evil chores! Then reward yourself.
3: Eco Friendly Fire Works…
If licensed or state permits legal fireworks please choose "smokeless" fireworks made of recycled paper. When fireworks are done being used, collect them, soak them in water and properly dispose of them. How many times have fireworks littered our beaches and other environments?
4: Food?
Go local. Eating locally grown foods is possibly the best way to lower carbon footprint. Buying produce from local growers reduces the environmental impact and costs of transporting and need for long-distance trucking, thus reducing greenhouse gas contributions. Support organic family farmers whenever possible, and help stimulate our regional economy.
Please call 1-800-783-6766 for additional information and details of their ongoing Recycling Programs. Pickup service is available for large quantities and commercial accounts. Also visit our web site at http://www.millerrecycling.com for additional information on our services.
About Miller Recycling Corporation:
Operating since 1940, Miller Recycling is a third generation company with the experience required to assist with all electronics, paper, plastics, and metals recycling requirements. Northeast Data Destruction, our NAID "AAA" Certified confidential shredding division, will securely process all your sensitive documents, files, media, hard drives, tapes, CD's, off spec products and storage components.