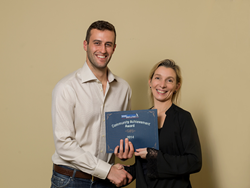 Through Flo's dedication we're seeing a 600% increase in the number of international students that are following a degree path at Millikin University.
Decatur, IL (PRWEB) November 30, 2014
300 Below contributes to Illinois-based science entrepreneurship initiatives on a global scale, and recognizes leaders who contribute to this discipline through its annual Community Achievement Award. While collaborating with higher education partners such as Millikin University, 300 Below recognizes community leaders for their efforts in attracting global talent and financing to the Central Illinois region.
In recognition of her efforts over the past three years, 300 Below is pleased to present Millikin University's Director of Global Strategy, Florence ("Flo") Galy Lebois, with its 2014 Community Achievement Award for her dedicated vision, leadership and impact on international engagement through student recruitment. In the United States, international students who seek STEM (science, technology, engineering, mathematics) degrees have increased 27% in recruitment from US-based universities, and Flo's efforts have kept pace with recruiting additional academic talent into the United States who bring an important international perspective to University guided STEM research projects.
"Through Flo's dedication, we're seeing a 600% increase in the number of international students that are following a degree path at Millikin University. Flo continues to impress our team by recruiting students who are exceptionally well prepared, and through our outreach efforts in attending university events where these students are present and engaged in Science Entrepreneurship dialogue, we could not be more pleased with the quality and maturity we're seeing among them," says Prescott Paulin, 300 Below's International Research Consultant.
Diversity and inclusion continue to be topics of progress and interest among Millikin's student body, with Flo's newest recruitment efforts attracting 21 nationalities to campus, among which 4 warring countries (Venezuela, Afghanistan, Ukraine & Rwanda) are represented. Many of these students attended the Decatur Community Leaders Thanksgiving Luncheon and learned about American traditions and culture through ongoing outreach efforts initiated by Flo.
As companies such as ADM and Caterpillar continue to recruit international talent in our local economy, Millikin is seen as a logical talent pool for providing well educated new hires. As these international students transition to America's private workforce, they contribute additional diversity into organizations who seek to reinforce their affirmative action and equal employment opportunity standards in the workplace. For organizations transacting with the US Government or accepting federal grants, the Office of Federal Contract Compliance Programs (OFCCP) ensures that these standards are maintained to prevent discrimination of workers based on their national origin.
Since its inception, Millikin has prided itself in becoming an open-minded community with all students and faculty included in its Big Blue Family. Including international students in Millikin's student community is just as important for the growth of students recruited from within the United States; Interacting with international students helps prepare domestic students for our nation's evolving globally-connected economic landscape, which influences how all Millikin graduates will work, learn, and live together in the real world.
300 Below is proud to recognize Florence Galy Lebois for her continued efforts to attract and retain competent international talent for our local community, especially as Millikin's Institute for Science Entrepreneurship collaborates on research projects benefitting Central Illinois businesses while impacting international research efforts that foster global recognition for Millikin as the leader in Science Entrepreneurship education.
300 Below, Inc. provides metallurgical engineering services as the world's largest and oldest commercial cryogenic processing company, in business since 1966. Through its liquid nitrogen based services, molecular structures of steel components are rearranged to last 200-300% longer for around 20% cost of the component. For 2014, 300 Below has introduced a new line of non-toxic cleaning and lubrication technologies as well as a patented scrub pad. 300 Below's cryogenic tempering process acts an extension of the heat treatment process used in tooling, mining, manufacturing, defense and aerospace components, high-performance motorsports applications, 262,000+ gun barrels, sporting goods, and musical instruments. 300 Below has started 156 operations in 36 countries around the world with its technology. Customers include NASA, as well as all branches of the U.S. Military and their contractors.