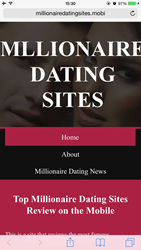 New York City, New York (PRWEB) September 14, 2015
Millionairedatingsites.mobi announced its launch today, with the goal of reviewing and analyzing the current mainstream millionaire dating sites out there on the market. The site analyzes those dating sites in terms of their target demographic, basic functions, unique features, membership and so on, aiming at giving audience a clear idea of what kind of sites they are and whether they're worth time or money.
"There are all kinds of dating sites out there that are literally eye-dazzling. Before someone jumps into one of them, his biggest concern probably is whether that site is right for him." said Joe, owner of Millionairedatingsites.mobi. "It makes perfect sense. If he sets his first foot wrong, what happens next could be horrifying."
Joe has been on various dating sites before and knows how it may affect one's feelings if he chooses a site that goes totally against the original intention. "You wanted a serious relationship, but ended up being on a site where users are mainly looking for a one-night stand. You wanted to find someone who's as successful as you are, but somehow chose a site full of scammers. You got disgusted and desperate all because you were wrong from the very start. You didn't choose a site that provides what you want."
Millionairedatingsites.mobi analyzed 5 of the best-known millionaire dating sites and came up with a very exclusive comparison. Which site has the most active member base, which site charges the most for membership, which site has the largest number of verified millionaires, it has them all covered. Notably, all these 5 dating sites turn out to be mobile friendly sites. According to Joe, "If a site doesn't provide good user experience on mobile devices, that site is bound to die."
"It's important nowadays that a website displays itself on a mobile device as well as on a computer." Joe said, "Especially for a dating site. Users will need to communicate anywhere anytime, not just after work or in front of their computer. If a dating site can't provide this convenience, it definitely doesn't care about its users at all and is not worth considering."
Millionairedatingsites.mobi will also subsequently conduct reviews and analytics on some of the main millionaire dating apps on the market.