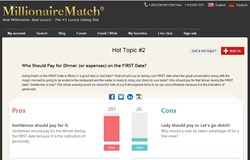 Millionaire Dating at MillionaireMatch.com
(PRWEB) February 12, 2014
MillionaireMatch.com is an online dating service special for millionaires to find dating, love and support, with many unique features like First Date Ideas, Fashion Show, Live Counselor/Expert, Live Dating Advisor and even more to make this site more and more popular. "Hot Topic" is the latest feature which has been launched on this website.
This new feature gives a topic and two totally different views to all members on this website. People choose "Pros" or "Cons" to show their opinions; also, members can post comments to support their viewpoint. Take the first topic as an example: one of the members gives a topic about "Who Should Pay for Dinner (or expenses) on the First Date?" The "Pro" is "Gentleman should pay for the dinner during the first date because it is an indication of generosity" and "Lady should pay or Let's go dutch!" is the "Con".
"This feature is really a good way to help our members express themselves and connect with each other. Many users expressed their opinions on the topic. Based on the report, 88.88 percent of people think gentleman should pay for the dinner during the first date," Also Millionaire Match plans to give more controversial topics about millionaire dating to members in the future, and will try their best to improve this feature.
About MillionaireMatch.com
As a millionaire dating site for over twelve years, MillionaireMatch.com was voted "Best of the Web" by Forbes.com. Members on this site include CEOs, pro athletes, doctors, lawyers, investors, entrepreneurs, beauty queens, fitness models and Hollywood celebrities. It is the best place to find successful people.
To join millionaire match full website,please visit http://www.millionairematch.com/.To join the mobile version,please visit http://www.millionairematch.mobi/.