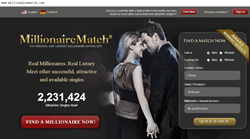 Los Angeles, California (PRWEB) February 02, 2015
2015 brings celebration as the online dating website for successful rich singles to find partners, MillionaireMatch.com, announces their 15th Anniversary of bringing singles together.
According to a study by the University of Chicago, couples 'who have met online experience happier, more enduring marriages'. This same study also found that couples who met online 'were more likely to be older (30 to 39 is the largest age group represented), employed and had a higher income' as well as the group being 'diverse racially and ethnically'.
"Bob had decided he wouldn't settle and went on a date with pretty much anyone that seemed interesting," states one MillionaireMatch success story. "I was his 99th date! I knew the moment he walked in that everything had just changed. We've been together since that day. Our first short date for coffee turned into an 8 hour date and making plans for more. We've been together for 9 months now and really love each other. He is kind, affectionate, funny, brilliant and perfect for me. As my good friend Lidia always says, 'You don't have to be perfect, just perfect for each other.'"
In their 15 years as a successful dating site, MillionaireMatch was highlighted as a millionaire dating site on Forbes.com. It is the largest and most effective site in the world to use for connecting with, dating, and marrying successful and attractive people. Among their verified members are CEOs, pro athletes, doctors, lawyers, investors, entrepreneurs, beauty queens, fitness models and Hollywood celebrities.
Singles do not have to be millionaires to participate in the site. MillionaireMatch also offers a blog and dating resources such as profile and photo tips to help their members become more successful.
For more information, visit http://www.millionairematch.com.