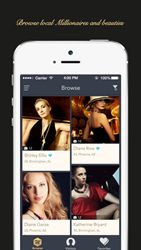 New York City, New York (PRWEB) May 04, 2015
When you are part of the one percent, it can be hard to find romance with someone who really understands you. MillionaireMatch, the site which has been helping attractive and successful singles find compatible partners for over a decade, has just unveiled the newest version of their MillionaireMatch Pro IOS app, and now the rich have access to the most efficient relationship platform ever launched in the mobile space.
Among the changes that have been made to this new version of the app are:
· A simplified design and navigation process that allows users to access all of the app's features from the left bar directly.
· A new "Match Display" which appears to members as soon as they log in (Previous versions of the app required users to take the time to search for themselves).
· A new "Activity Page" which let's members view all recently updated photos.
· A new messaging feature which has been updated to allow for faster and more convenient communication online.
· A completely revamped "My Account" page which makes it easier than ever for singles to manage their own photos and update their profile content.
· A new upgrade page which better explains the benefits members get when they upgrade their profiles.
"We've been providing wealthy singles in search of romance with a safe and fun online destination since the infancy of the online dating industry," Said Sammy Wan, MillionaireMatch Pro's marketing representative, "this new version of our IOS app is something our members really appreciate. Successful people lead very busy lives and their time is extremely valuable. This new update gives them what they need to meet other successful singles in the most efficient and convenient way possible."
MillionaireMatch Pro, a member of the SuccessfulMatch family, is the longest standing and most respected online dating company devoted entirely to helping wealthy and attractive singles find compatible partners.
The newest version of the MillionaireMatch Pro IOS app is available now in the App Store.