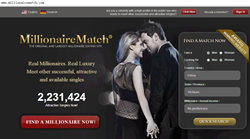 Los Angeles, California (PRWEB) January 14, 2015
They have been the subject of jokes for comedians, often discussed in popular culture – the archetype of the mother-in-law. Yet when it comes to dating and websites that promote dating match-ups, in-laws never seem to come up. Until now. It seems that on dating website MillionaireMatch.com mother-in-laws are quite the hot topic.
Founded 14 years ago, MillionaireMatch is considered the largest and most effective site in the world to connect with, date, and marry successful and attractive people.  It has also been voted "Best of the Web" by Forbes.com. Members of the site include CEOs, pro athletes, doctors, lawyers, investors, entrepreneurs, beauty queens, fitness models and Hollywood celebrities. And while many topics are often found to be of direct interest and importance to this elite crowd, when it comes to dating, no one ever dared to ask the obvious. Until now.
MillionaireMatch has taken on the topic of this important issue for a family. What do millionaires think about mother-in-laws? They seem to be pretty evenly split down the road of opinion on the subject.
Those on the pro side all seem to indicate that one's potential mate needs to be able to get along with their family because their partner is going to be a strong indication of how they would be treated. Family is an important extension of the partner after all.
For those on the negative side, a lot of the weight seemed to lie with either being too involved with mother or the mother being too involved with son. Being a momma's boy was a deal breaker, as was a mother not having a healthy respect for boundaries. Many felt that the mother needed to have a healthy life of her own. A small percentage felt that a mother-in-law issue was just a small sacrifice when weighed against the benefits of financial security in a partner. 
For more information, visit MillionaireMatch Hot Topic.
About MillionaireMatch:
As world's first and largest millionaire matchmaking website, MillionaireMatch has been pairing successful and attractive singles for over 14 years. It also offers other great features such as luxury guide and millionaire dating tips.