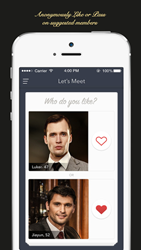 New York City, New York (PRWEB) June 24, 2015
MillionaireMatch.com, the world's largest millionaire dating site, today announced that it has added "Let's Meet", an innovative new feature, to its popular MillionaireMatch Pro dating app. Let's Meet enables users to view two potential dating matches at the same time. With Let's Meet, a user can "like" one of the two profiles shown, but not both. The ability to see two profiles at once speeds up the matching process.
"If you talk to people about what people don't like about data apps, it's the time it takes to find a good match," said Jeffery, co-founder of MillionaireMatch, "We're solving that problem with Let's Meet. Now, you can move quickly through matches that don't work for you, but promptly get connected when someone likes you back."
Let's Meet launches from a menu within the MillionaireMatch Pro app with its own "start" button. Once started, the system starts to show profiles of nearby members based on location. A left or right swipe makes the app present two new profiles for consideration. A like is conveyed by touching a heart icon on the profile. This feature differentiates MillionaireMatch Pro from other dating apps, which only give their users one profile to "like" or "pass" at a time. When two users like each other, they each get an instant notification message so they can start chatting.
MillionaireMatch.com was started over ten years ago with the goal of serving a very exclusive, elite clientele of rich and attractive men and women. Clients include CEOs, pro athletes, doctors, lawyers, investors, entrepreneurs, beauty queens, super models, and Hollywood celebrities who are all seeking millionaire dating opportunities and a serious, long-term relationship. The site has over 2 million members.
The site goes through a verification process for members who want to present themselves online as "millionaires." Verification includes a confidential review of personal financial statements, tax returns, and references. The goal is to ensure that member profiles are accurate.
To know more about the MillionaireMatch Pro app, download the app on the App Store or Google Play Store.