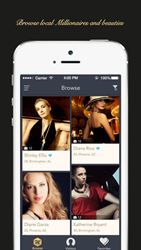 Los Angeles, California (PRWEB) April 08, 2015
MillionaireMatch.com, the world's leading online matchmaker among the world's wealthiest, most attractive singles, today announced the release of its updated iOS mobile app "MillionaireMatch Pro". Offered as the pro mobile version of the popular service's traditional website, the MillionaireMatch.com's new app is loaded with new features and a very sleek, intuitive design, streamlining the matchmaking process and of course making it infinitely more convenient for its busy users.
"With more than two million active users, we knew offering a service like this was essential for us to have in order to keep up with our expanding membership," Brian, marketing manager with MillionaireMatch.com says. "Of course, it's the same quality service we've become known for, but packaged in an updated flavor that adds a real level of fun for our members. We've been extremely encouraged by the response so far."
As of 2013, the U.S. alone contained 5.2 million people classified as millionaires, and with such a high concentration of successful people in the U.S. and abroad, there has never really been a time when millionaires struggled to find meaningful romantic relationships. In other words, the chances of being taken advantage of by less successful "sugar babies" or "gold diggers" has never been higher. That is where MillionaireMatch.com comes in.
"There is definitely a trend among the world's wealthy who have a concern that they're simply being used for their money," Brian added. "With our service, we provide a comprehensive filter that really serves as the ideal counter to that trend, and our members often express how happy they are they signed up with us."
The matchmaking and luxury dating service has built a strong reputation for not just catering to rich, attractive singles, but also for its unique system of verifying that its members are real millionaires, a feature many similar services cannot provide.
Far from sugar daddy dating sites, this millionaire matchmaker remains fiercely focused on connecting attractive, real millionaires to partners across the world, and has been doing so for well over a decade. The service's elite clientele make up the largest collection of millionaire status CEOs, professional athletes, doctors, lawyers, investors, entrepreneurs, super models, celebrities and more who are seeking honest, long-term relationships for those serious about dating.
To start searching MillionaireMatch.com's attractive, wealthy singles, just create a free account at their website here, or follow them on Facebook or Instagram for a preview of the company's clientele.