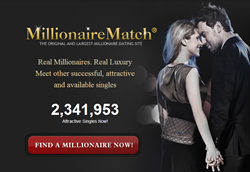 Los Angeles, California (PRWEB) April 21, 2015
MillionaireMatch.com, the world's largest millionaire matchmaker, today announced the results of a member survey that reveals the women's body type preferences of the world's richest bachelors. The survey, which allowed for multiple answers, shows that 79% of millionaires prefer a woman with a "slim" build, but nearly half said they preferred "average" and a third indicated that a "curvy" body was their preferred type.
"The data here is very revealing about what rich men really want," said Brian, MillionaireMatch marketing manager. "Yes, of course, they like women who are slim. But, there's a surprising amount of openness to different body types. Not everyone has to be a Barbie Doll. It shows that body type is just one element of attraction. Some men like an athletic build. One out of six have no preference at all. There are so many other things going on – that's why our site enables members to search by numerous qualities in addition to just looks and body type."
The survey gave members 11 choices and the ability to select more than one option. The data reported the following percentages of millionaire body type preferences:
A few extra pounds - 7.00%
Athletic - 77.41%
Stocky - 1.51%
Full-figured - 6.40%
Average - 49.85%
Slim - 79.52%
Petite - 71.08%
Curvy - 32.76%
No preference - 15.44%
MillionaireMatch.com was started over ten years ago with the goal of serving a very exclusive, elite clientele of rich and attractive men and women. Clients include CEOs, pro athletes, doctors, lawyers, investors, entrepreneurs, beauty queens, super models, and Hollywood celebrities who are all seeking millionaire dating opportunities and a serious, long-term relationship. The site has over 2.3 million members.
The site goes through a verification process for members who want to present themselves online as "millionaires." Verification includes a confidential review of personal financial statements, tax returns, and references. The goal is to ensure that member profiles are accurate.
For more information, visit this millionaire dating website: http://www.millionairematch.com/