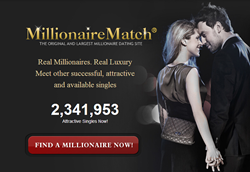 New York City, New York (PRWEB) March 13, 2015
MillionareMatch.com, the world's largest millionaire dating site, announced today that it is changing its theme to "Real Millionaires. Real Luxury." The updated message reflects the site's unique ability to verify that members who claim to be wealthy are actually being accurate about their financial statuses. The site has over 2 million members.
"We wanted our theme to reflect our core mission, which is to provide a real millionaire dating experience for people who are seeking real relationships – people who value real luxury," said Brian, marketing manager of MillionaireMatch.com "This isn't a sugar daddy site. It's a place where high quality people can meet other successful, attractive and available singles."
MillionaireMatch.com was started 14 years ago with the goal of serving a very exclusive, elite clientele of rich and attractive men and women. Clients include CEOs, pro athletes, doctors, lawyers, investors, entrepreneurs, beauty queens, super models, and Hollywood celebrities who are all seeking millionaire dating opportunities and a serious, long-term relationship.
The site goes through a verification process for members who want to present themselves online as "millionaires." Verification includes a confidential review of personal financial statements, tax returns, and references. The goal is to ensure that member profiles are accurate. "This is a true millionaire club," Brian said.
"Everyone thinks that dating for people at this level is a snap, but the truth is quite the opposite," Brian added. "It can actually be quite difficult. Once you have achieved a certain level of success, it can be harder than ever to find someone interested in you for who you are and not what you have. This can make meeting your soul mate, someone special who is interested in a lasting relationship, a real challenge. We make it possible to find the right partner, with discretion and class."
For more information, visit the website: http://www.millionairematch.com/