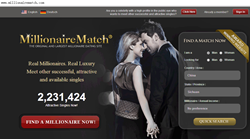 Los Angeles California (PRWEB) January 30, 2015
In a recent forum discussion, members of the popular millionaire matchmaker website, MillionaireMatch.com shared insights into the kind of profiles they find disgusting and very unappealing. While there were many factors cited by members of both sexes, the topmost one was the profile involving pictures with dead animals like a fish caught by the individual or a picture of a game shot for sporting pleasure, etc.
This online forum did focus on the different aspects of profiles that just do not make the cut, according to women and men. While the list drawn up by female members was different from the male ones, the key highlight was that members did not find profile photographs wherein the individual posed with a moose dripping blood or a fish caught appealing at all. In fact, any mention in profiles where it was shared that someone liked to hunt animals or go fishing or even shoot birds was looked upon as very unattractive.
The key reason cited for this reaction was the general feeling amongst members that shooting or hunting animals for play or pleasure just showed an empty and insensitive need to show might and power over helpless creatures.
The online discussion also threw up some other interesting insights into profiles which do not carry any favours amongst women, in addition to the dead animals one. Women in the millionaire club did not like profile pictures including details seem stretched too far from reality. Posts containing sketchy information or profiles without any photo are also unappealing.
Male members also had some different points of views to share. They showed that they would not date a girl who refused to Skype or offended others when asked about basic details like her address etc. Another upsetting factor was when a girl did not have a profile photo in her profile.
Overall, the insights did throw up some interesting facts about online dating. The discussion let people know clearly about the information that one finds appealing in an online avatar.
About MillionaireMatch
Since 14 years, MillionaireMatch.com has been providing a unique platform for single millionaires to meet each other and explore a long term serious relationship, even marriage. It is one of the most popular dating sites for a niche audience and has been top rated too.