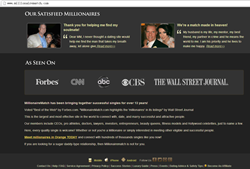 Los Angeles California (PRWEB) February 26, 2015
There are more millionaires in the world now than ever before and MillionaireMatch.com has seen proof that they are getting younger and younger. Less one year ago, on 06/27/2014, Britain's Daily Mail cited a Prudential Insurance study showing that the average millionaire mail reached his elite status at the age of 51. Meanwhile, on the average, women didn't begin to claim "millionairehood" until the age of 70. The article cited a wage gap between genders as the reason why it took women so much longer to accrue the same wealth as their male counterparts.
Interestingly, recent data collected from 'Verified Millionaires' on a millionaire matchmaker site MillionaireMatch.com paints a much different picture. Based on a review of the data, most current male millionaires on the dating site are actually in their forties, while the majority of women claiming millionaire status are nearly twenty years younger than the prudential study found, with their average age being in the fifties.
According to MillionaireMatch, 33.03% of all male 'Verified Millionaire' members are between the ages of 41-50 and 31.31% were fifty or older. On the younger side of the equation, 18.64% were 31-40 years old only 2.43% of men between 21-30 were able to claim membership to the millionaires club.
When it comes to women, the results shows that just under 34% of female 'Verified Millionaire' members were in their fifties and that 30% were between the ages of 41-50. While women were less likely to reach millionaire status in their thirties (13.60%), they were more slightly more likely to reach it between the ages 21-30 (3.60%). In a find that shows some agreement with the Prudential data, nearly 18% of female millionaires were at least sixty years of age.
Since its inception, over a decade ago, MillionaireMatch.com has grown to become the largest and most respected online dating site for successful singles in search of a meaningful and long-lasting relationship. If you are a wealthy single interested in finding love or are just interested in learning more about our site, please visit here:
http://www.millionairematch.com