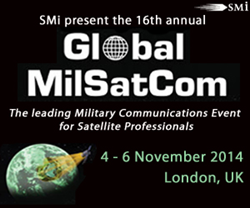 Europe's leading Military Satellite Communications event
London, UK (PRWEB UK) 12 June 2014
SMi have just announced registration to the 16th annual Global MilSatCom conference and exhibition is now open.
Global MilSatCom is Europe's leading military satellite communications event bringing together over 400 of the industry's key senior military representatives who use MilSatCom in their operations alongside the world's leading SatCom solutions providers and operators.
This industry-leading event will feature 3 days' worth of high-level keynote addresses, thought-provoking presentations and interactive panel discussions to allow attendees the opportunity to hear about the newest technologies to help them develop more secure satellite communications.
The focus for Global MilSatCom 2014 will be looking at current operational challenges faced by MilSatCom end-users such as difficulty of establishing SatCom capability when troops have just been deployed, managing MilSatCom on difficult terrain and the issue of securing cost-efficient MilSatCom and how to overcome these challenges through international cooperation with both military and civil projects. Click here for further information.
The 2014 expert speaker line-up features:

NEW FOR 2014: Lieutenant General (Rtd) Anil Chait, PVSM, AVSM, VSM, ADC, Chief of Integrated Defence Staff Chairman, Government of India Ministry of Defence
NEW FOR 2014: Lieutenant Colonel Cem Sinan Barim, Chief of SatCom Management Center, Turkish Armed Forces
Colonel Christophe Debaert, Head of Syracuse Programme, DGA France
Colonel Volker R. Quante, Project Leader SatComBW, The Federal Office of Bundeswehr Equipment, Information Technology and In-Service Support (BAAInBw)
Captain Cataldo Lombardi, Navigation, Surveillance and Communication Satellite Systems, Director, Teledife Segredifesa, Italian Ministry of Defence
Peter Malmberg, Senior Engineer, Satellite Systems, The Danish Defence Acquisition and Logistics Organization (DALO), Danish Defence
NEW FOR 2014: Colonel Atogeba Alobawone, Director Communication, Directorate of Defence Communication and Information Systems, Ghana
Armed Forces
Deanna Ryals, Chief MilSatCom International, MilSatCom Directorate, US Air Force
Lieutenant Colonel Abde Bellahnid, Directorate of Joint Capability, SatComs & SAR Requirements, Canadian Department of Defence
Colonel Pierre Mattei, Aerospace Engineering Coordinator, ITA, Brazilian Armed Forces
Michael Rupar, Branch Head, US Naval Research Laboratory
NEW FOR 2014: Maximiliano Erazu, SAOCOM Communications System Engineer, CONAE
Click here to download the conference brochure.
Key reasons to attend Global MilSatCom 2014:
Industry-leading keynote addresses from France and Italy, Germany, US, and Canada and over 30 key presentations discussing the latest topics within the SatCom community
NEW NATIONS to speak include: Turkey, India, Argentina, Tanzania and Ghana
More operationally-focused presentations from New Zealand Defence Forces and Former DISA Engineer
Over 100 senior military representatives from across the world
Region-focused conference agenda for more specialised content: Day 1 will focus on EU including the Host Nation, Day 2 - the Americas including Latin America and Day 3 – will feature stand-alone presentations and discussions from the three main regions Asia Pacific, Middle East and Africa
Large exhibition space full of the leading operator and SatCom solutions providers showcasing the latest technologies
In addition, attendees will have the chance to attend two new workshops:
A - Role of satellite in Operational situational awareness-latest technological trends - Hosted by Satellite Applications Catapult
B - Satellite Interference- Technology and Tools - Hosted by Satellite Interference Reduction Group
Places are extremely limited for this event. With the event selling out for the past 10 years, those interested are advised to register before the 30th June to secure their place and save £300.
For further information, please visit http://www.globalmilsatcom.com or contact the team on +44 (0) 20 7827 6054.
About SMi Group
The SMi Group is a highly professional, independent and global event-production company that specializes in Business-to-Business Conferences, Workshops and Masterclasses, and online Communities. The SMi Group creates and delivers events in the Defence, Security, Energy, Utilities, Finance and Pharmaceutical industries. For more information, please visit http://www.smi-online.co.uk