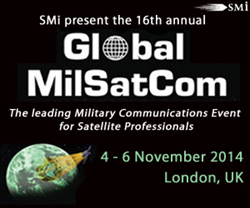 London (PRWEB UK) 29 September 2014
Airbus recently announced that they would sell a suite of assets including its commercial satellite communications services business, mainly mobile satellite services — as it focuses on its core space, military aircraft, missiles and other divisions*.
Within its defense and space division, Airbus said that it would focus on satellites, launchers, military aircraft and missile systems because it considers those as areas of future growth.
"Given the tight budgetary situation in our home countries and increasing competition on global markets, the portfolio review is an essential element to further develop our defence and space business and ensure its competitiveness," Airbus Defence and Space Chief Executive Bernhard Gerwert said in a statement.
Have the chance to hear from Airbus on their latest strategy as Colin Paynter, Managing Director presents on day two of the Global MilSatCom conference. Colin will present on 'Achieving assured Global SatCom services' and will focus on:

The value of information for command control and situational awareness
Catering for evolving and dynamic operational requirements
Importance of operator heritage and support
Click here for further details
The 2014 speaker line-up also features:
Colonel Christophe Debaert, Head of Syracuse Program, DGA France
Captain Cataldo Lombardi, Director, Navigation, Surveillance and Communication Satellite Systems, Italian Ministry of Defence
Deanna Ryals, Chief MilSatCom International, MilSatCom Directorate, US Air Forc
Lieutenant Colonel Abde Bellahnid, Directorate of Joint Capability, SATCOMS & SAR Requirements, Canadian Department of Defence
Colonel Pierre Mattei, Aerospace Engineering Coordinator, ITA, Brazilian Armed Forces
Lieutenant General (Rtd) Anil Chait, PVSM, AVSM, VSM, ADC, Chief of Integrated Defence Staff Chairman, Government of India Ministry of Defence
Lieutenant Commander Owen Gee, C4 EW Requirements Maritime, New Zealand Defence Force
Colonel Atogeba Alobawone, Director Communication, Directorate of Defence Communication and Information Systems, Ghana Armed Forces
Visit the website to view the full conference programme
The £100 early bird expires 30th September, please visit globalmilsatcom.com to secure your seat today.
Alternatively contact the Global MilSatCom team on +44 (0) 20 7827 6000.
Space News, September 16, 2014, click here to view full article
---------------------ENDS-------------------
About SMi Group
The SMi Group is a highly professional, independent and global event-production company that specializes in Business-to-Business Conferences, Workshops and Masterclasses, and online Communities. The SMi Group creates and delivers events in the Defence, Security, Energy, Utilities, Finance and Pharmaceutical industries. For more information, please visit http://www.smi-online.co.uk