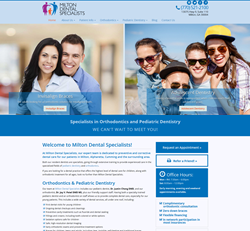 Knowing that our patients are pleased with their experience at our office brings immense pride. We truly love what we do, and we are happy that shows through to our patients, says Dr. Chong
Milton, Georgia (PRWEB) April 27, 2016
Milton Dental Specialists in Milton and serving Alpharetta, Georgia is led by two highly ranked dental specialists, pediatric dentist Dr. Justin Chong and orthodontist Dr. Jay Patel. Together they provide superior, comprehensive dental care to children, teens and adults. The esteemed convenience of providing complete preventative and restorative dentistry for kids along with the latest orthodontic treatments for all ages has certainly contributed to the five star patient reviews that Milton Dental Specialists has received. These superior patient reviews from multiple online sources are what earned Dr. Chong and Dr. Patel the recognition of being a Find Local Doctor Top Rated Milton Dentist. Find Local Doctors is a quality directory that helps consumers find the dentists in their area who are not only equipped to provide the services they need, but who are also highly ranked by their patients.
Resident specialists Dr. Chong and Dr. Patel have teamed up to provide a unique dental practice for families in Milton. Not only can children receive excellent preventative and corrective dental care, but they also offer a full menu of orthodontic treatments for children, teens and adults. From a child's first dental exam and dental treatment to braces and Invisalign, patients have access to top of the line dental care under one roof. Milton Dental Specialists offers a family friendly atmosphere with sedation options and high-resolution imaging that are safe for children. When it comes to straightening smiles, Dr. Patel is a skilled orthodontist that encourages early orthodontic treatment and offers an expansive menu of services, ranging from traditional braces to Invisalign Teen and even surgical orthodontics. Together, Dr. Chong and Dr. Patel are committed to staying at the forefront of their fields and providing the best that modern dentistry has to offer.
"Knowing that our patients are pleased with their experience at our office brings immense pride. We truly love what we do, and we are happy that shows through to our patients," says Dr. Chong.
More About Dr. Justin Chong and Dr. Jay Patel:
Dr. Justin Chong is a Georgia native who earned his Doctorate of Dentistry from Medical College of Georgia. He pursued his passion for treating young smiles by attending Temple University Hospital - Episcopal Division residency program for Pediatric Dentistry in Philadelphia, PA. After two years of additional training and earning the title of Chief Resident, Dr. Chong received his specialty certificate in Pediatric Dentistry and returned home to Atlanta to practice at Milton Dental Specialists.
Originally from London, England, Dr. Jay V. Patel moved to Atlanta as a teen. He harnessed his passion for art, science and happy people by completing the years of advanced training required to be a specialist in Orthodontics and Dentofacial Orthopedics. He holds a Certificate in Orthodontics, Master of Science in Oral Biology and Doctorate of Dental Medicine from Temple University School of Dentistry. Dr. Patel is a member of in the American Association of Orthodontists (AAO) and continues to pursue excellence in his field.
For more information on the services offered by Milton Dental Specialists, visit miltondentalspecialists.com or call (770) 521-2100.