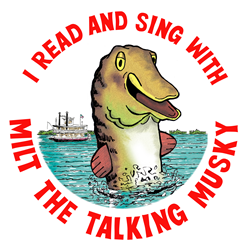 We believe Milt's magic in helping an Autistic child attempt speech for his first time ever is from the mesmerizing underwater video, music and Musky fish said Kathy & Peter Wiemer.
Chautauqua, NY (PRWEB) April 29, 2014
Milt the Talking Musky is a pre-school - 2nd grade sight word learning tool, which focuses on teaching 86 sight words through a four-minute sing along and read along karaoke song. Music and video is proven to increase learning retention in young children. The tool was created in 2006 by Peter & Kathy Wiemer of We Wan Chu Cottages, Chautauqua Lake, New York.
In 2008 one of We Wan Chu's Office Assistants was tutoring some children outside of work, including two twin six year old Autistic boys, who were shown Milt the Talking Musky, after which one of them attempted speech for the first time. Milt is listed in the Autism Speaks website under Video Tools & DVD's. "We believe Milt's success is due in part to the mesmerizing underwater video scenery which is Milt The Talking Musky," said Kathy Wiemer.
In honor of April Autism Awareness Month, Milt the Talking Musky will donate $ 1.99 to Autism Speaks out of every $ 4.99 video on demand purchased of Milt the Talking Musky for the next 30 days, from April 29th to May 29th, 2014, and will also do the same for the iKidsFishing Show.
Milt the Talking Musky also includes a video read along alphabet and downloadable 40 page PDF coloring book which teaches 228 sight words within the text, allowing children to color, read and learn from Milt the Talking Musky.
The iKidsFishing Show is a kids fishing show starring kids teaching kids how to catch fish. The iKidsFishing Show (51 minutes) shows parents and relatives how easy and inexpensive it is to take kids fishing safely. Using the K.I.S.S. method (Keeping It Safe and Simple) teaches kids how easy fishing is and helps improve their overall respect for nature. Watch with glee (watch the bloopers) as your children watch and learn from other children how to catch fish safely.
Both of these childrens' video learning libraries are available at ProLibraries.com.