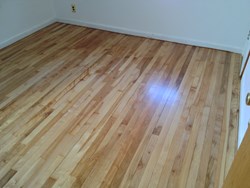 Milwaukee's Leading Hardwood Floor Specialist Royal Wood Floors, Announces its Preventative Buffing and Coating Option to Protect Your Hardwood Flooring Investment
Milwaukee, WI (PRWEB) October 11, 2013
That's important, especially to homeowners, businesses, and real estate investors wanting to keep their properties in the best possible condition.
"We have tried different Milwaukee wood floor refinishing companies over the years for our investment properties. Potential tenants fully expect a rental to be the best condition possible. As a landlord, it's extremely vital to strike a balance between necessary repairs and aesthetic improvements. That's where Royal Wood Floors comes in handy. Their work speaks for itself, and their prices are just right," explained one property investor.
Royal Wood Floors leads above the other Milwaukee hardwood floor refinishers because the company prides itself on its work. While other Milwaukee wood floor refinishing companies take short cuts to get the job done quicker, spending less to increase margins.
Royal Wood Floors will always employ the best practices when doing any hardwood floor buffing because the company knows that some things do not mix, "Some floor coatings--polyurethane, for example--can be difficult to coat over because a new oil-based finish won't adhere well. After it receives a lot of wear, it can be hard to tell a polyurethane finish from more traditional ones, like lacquer or varnish. Fortunately, many water-based products will adhere to just about any existing finish (except a wax finish of some kind), so they're the best choice if unsure of what the old finish is," explains Popular Mechanics.
Top notch Milwaukee hardwood floor refinishers can be hard to come by as many companies claim to deliver superior results but are not actually well versed in all things hardwood. Royal Wood Floors believes its high quality of workmanship is due to its many years of experience. The company not only provides excellent services to the area, but also gives their customers the information necessary to care of their floors appropriately.
"To keep your floors in terrific shape, vacuum or dust mop regularly to keep abrasive dirt to a minimum. Periodically damp mop the floor with a hardwood floor cleaner to remove food spills and other contaminants. Never use paste wax, silicone-based polish, solvents, pine-based cleaners, vinegar or ammonia to clean the floor. These products can damage the finish and pose problems for future refinishing," advises Popular Mechanics magazine.
Royal Wood Floors state that when a floor is properly taken care of, it will last many years. Furthermore, proper care means less expense when it comes to needing professional services.
For more information about what the economy hardwood flooring restoration Milwaukee service by Royal Wood Floors, or to schedule top notch hardwood flooring services or installation services, or learn about hardwood floor repair or the company's inlay and medallion installation services, phone Keith Allman at 414-378-2066. Estimates and appointments can be made through the company's website, Royal Wood Floors.com.
References
APA: Turn Your Wood Floor Into A Showpiece - Popular Mechanics. (n.d.). Retrieved from http://www.popularmechanics.com/home/improvement/3368186.