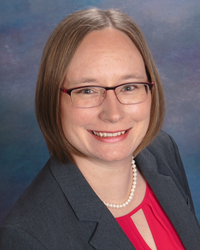 " We are very happy and excited to have Erin on board. She comes to the position with excellent academic accomplishments, but also with a great background in the day to day practical experience of serving clients, " says Founding Attorney Rollie R. Hanson
West Allis, WI (PRWEB) December 10, 2015
The Law Office of Rollie R. Hanson, S.C. is pleased to announce the hiring of Associate Attorney Erin E. Block.
Milwaukee Bankruptcy Attorney Erin E. Block obtained her J.D. from Marquette University Law School, where she served as the lead articles editor for the Marquette Intellectual Property Law Review, and worked with the Marquette Volunteer Legal Clinic. She obtained a B.S. in Computer Science from the University of Wisconsin, Milwaukee. During college, she completed an externship at the United States Patent and Trademark Office in Alexandria, Virginia. Erin also has experience working as a paralegal and law office manager.
Erin concentrates her legal practice in bankruptcy, probate, and creditor rights matters. She is admitted to practice law in the State of Wisconsin and the Eastern District of Wisconsin. Erin is a member of the Milwaukee Young Lawyers Association, the Eastern District of Wisconsin Bar Association, and the National Association of Consumer Bankruptcy Attorneys. In 2015, Erin was inducted into the Marquette Pro Bono Society.
" We are very happy and excited to have Erin on board. She comes to the position with excellent academic accomplishments, but also with a great background in the day to day practical experience of serving clients, " says Founding Attorney Rollie R. Hanson.
About the Law Office of Rollie R. Hanson, S.C.:
The Law Office of Rollie R. Hanson, S.C. is located in West Allis, Wisconsin. The Milwaukee law firm handles legal matters pertaining to bankruptcy, illegal collections practices, mortgage foreclosure defense, predatory lending, federal consumer protection, estate planning, and elder law.
The firm's mission is to provide exceptional professional advice and outstanding customer service to every client. The Law Office of Rollie R. Hanson, S.C. represents clients located in Milwaukee, Ozaukee, and Waukesha Counties, and throughout southeast Wisconsin. Call (414) 321-9733 or visit the firm's website to contact an experienced Milwaukee attorney to discuss your legal matter today.