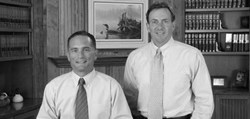 Milwaukee, Wisconsin (PRWEB) February 06, 2014
Scientific studies have concluded that weekly perineal dusting of talc-based baby powder may increase a woman's risk of contracting ovarian cancer by 30%. (National Institutes of Health, Anticancer research, March –April, 2003, ncbi.nlm.nih.gov/pubmed/12820486) This topic has been the subject of scientific research and mounting evidence for four decades, yet the use of talc in cosmetics in the United States remains unregulated. Ovarian cancer can be life-threatening. The American Cancer Society estimates that ovarian cancer will have claimed the lives of over 14,000 women in 2013 alone.*
In October of 2013, the first talcum powder ovarian cancer verdict was handed down by a federal jury in South Dakota (Deane Berg v. Johnson & Johnson Consumer Companies, Inc., U.S. District Court, District of South Dakota, Case No. 09-4179). The jury found that regular use of Johnson & Johnson talcum powder products over 30 years was linked to the plaintiff's diagnosis of ovarian cancer.
The jury heard the testimony of an expert on baby powder and ovarian cancer, Daniel Cramer, a Harvard epidemiologist. Dr. Cramer estimated that of the over 22,000 new cases of ovarian cancer diagnosed in 2013, roughly 10,000 of such cases are causally linked to the perineal dusting of talcum powder. This jury's finding supports what some studies have shown and may allow you or a loved one to take legal action against Johnson & Johnson and the talc mining companies Luzenac America and Rio Tinto Materials.
Attorneys at Keberle & Patrykus providing a no-cost, no-obligation baby powder ovarian cancer attorney consultation to women, or their families, who were diagnosed with ovarian cancer after using a talcum powder-based product, such as baby or body powder. The may be reached at 1-800- 529-1110 to speak directly with Attorney Keberle or Attorney Patrykus.
About Keberle & Patrykus
Doug Keberle and Dan Patrykus are injury lawyers with 30 year track records of success who are respected by judges and lawyers across Wisconsin. The firm practices exclusively in personal injury law. To be successful in this field requires a firm to have the best investigative and medical resources immediately available. Their attorneys e are known and respected by Washington County law enforcement, as well as other state departments. A combined 60 years of fighting for clients – both professionally and fairly – has allowed Keberle & Patrykus to foster and maintain these relationships. They take cases large and small, and are determined to win every case they take.
At Keberle & Patrykus either Attorney Patrykus or Attorney Keberle will take your call and deal with you personally from the day they are hired us until the day the case is successfully finished and closed. That is our promise and guarantee. If you, a family member or friend have been harmed by a defective medical product or drug, please complete our online contact form, visit our website at http://www.babypowdercancerattorneys.com, or call us at 262-334-1944 or 1-800-529-1110.
*http://www.cancer.org/cancer/ovariancancer/detailedguide/ovarian-cancer-key-statistics