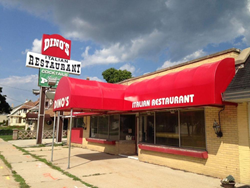 Milwaukee, WI (PRWEB) September 23, 2014
A terrific commercial investment opportunity has presented itself in the form of a former Italian restaurant/cocktail lounge located mere minutes from both Milwaukee's Mitchell Airport to the south and the city's downtown to the north; the property is situated between the airport and downtown, offering the highest possible customer traffic.
The building features a covered entryway, many seating options (booths, tables, bar seating, etc.), and a paved parking lot with 12 spots. The property is located at 4252 S Howell Avenue in Milwaukee, Wisconsin (zip: 53207), just off Interstate 94, and is a .19-acre lot. The building itself is 3,060 square feet, and was originally constructed in 1956.
The property is listed at $275,000 with an opening bid of $199,000 if no offer is received before the September 27 auction.
Milwaukee is the largest city in the state of Wisconsin and is the 31st most populous city in the United States; the city's metropolitan area is the 39th most populous region in the country. The city is known for its history of brewing and is also home to the international headquarters of six Fortune 500 companies, including Harley-Davidson. General Mitchell International Airport is a major metropolitan airport, and is frequently used as an alternative to Chicago's O'Hare and Midway airports.
The highly motivated sellers of this property have indicated that they plan to entertain early bids and offers. Buyers are most likely already researching this property, and coming to decisions about whether to make a purchase, so potential buyers are advised to act fast.
Interested parties should visit micoley.com to find more photos and details about the property, or by visiting in person and performing an inspection on site, which is highly recommended. (866) 371-3619 is Micoley.com's information line. Additionally, Micoley.com features a live chat service through which questions can be answered.
About Micoley.com:
Green Bay, Wisconsin-based Micoley.com is a real estate marketing firm specializing in project focused auctions of bank-owned properties throughout the United States. The Micoley.com approach to real estate marketing tailors each auction plan to the client's individual needs. The site is constantly being updated for the benefit of buyers, as large-scale auction events are held monthly, and new properties are added daily. Auctioneer Firm: Micoley.com LLC #432-53. Auctioneer: Wade T. Micoley #2647-052. Broker Firm: WM Enterprises, Inc. #835181-91. Broker: Wade T. Micoley #43427-90. Full licensing can be found on the firm's website.