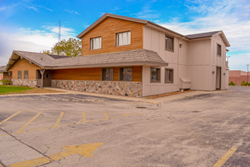 Milwaukee, WI (PRWEB) June 02, 2015
Calling all chefs! At 800 Layton Avenue in Milwaukee, Wisconsin (zip: 53221) is a restaurant property that is ideal for those looking to add to their commercial real estate portfolio or for those who are looking to own and run their own restaurant. In terms of location, the property is deal, since it is situated in a high-traffic area close to Milwaukee's General Mitchell International Airport right off Interstates 94 and 43.
The property consists of 1.95 acres of land, and the building is 16,804 square feet, with 7 baths, 2 main bars, 2 dining halls (1 with a stone fireplace), 2 walk-in freezers, 3 walk-in coolers, a bonus lower banquet center for private parties, and asphalt parking spaces for 197. (The building is handicap accessible, too.) This is a property with high income potential; in addition, there is a 3-bedroom, 2-bath apartment on the building's second level.
The property is listed at $1,495,000 with an opening bid of $895,000 if no offer is received by the August 28 auction.
Milwaukee is the largest city in the state of Wisconsin and is also the 31st most populous city in the United States. Additionally, Milwaukee is the centerpiece of the Milwaukee-Racine-Waukesha metropolitan area, which is the 29th most populous combined statistical area in the country with a population of just over 2 million.
The General Mitchell International Airport serves the entire state of Wisconsin and also acts as a third airport for the city of Chicago and the population of Northern Illinois, greatly increasing the amount of population traffic in and around the airport on a daily basis.
The highly motivated sellers of this property have indicated that they plan to entertain early bids and offers. Buyers are most likely already researching this property, and coming to decisions about whether to make a purchase, so potential buyers are advised to act fast.
Interested parties should visit micoley.com to find more photos and details about the property, or by visiting in person and performing an inspection on site, which is highly recommended. (866) 371-3619 is Micoley.com's information line. Additionally, Micoley.com features a live chat service through which questions can be answered.
About Micoley.com:
Green Bay, Wisconsin-based Micoley.com is a real estate marketing firm specializing in project focused auctions of bank-owned properties throughout the United States. The Micoley.com approach to real estate marketing tailors each auction plan to the client's individual needs. The site is constantly being updated for the benefit of buyers, as large-scale auction events are held quarterly, and new properties are added daily. Auctioneer Firm: Micoley.com LLC #432-53. Auctioneer: Wade Micoley #2647-052. Broker: Jeffrey Benson #18508-90.