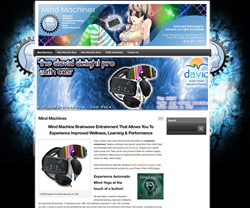 Los Angeles, CA (PRWEB) February 19, 2014
Mind Machines is announcing the unveiling of their newly redesigned web portal promoting light and sound mind machine technology, high-tech relaxation gear, and self-meditation devices. The new mind machines.com website was unveiled today, Wednesday, February 19, 2014.
"We feel that our newly redesigned site will better appeal to the public and promote the message and raise awareness about the benefits of brainwave entrainment technology and light and sound mind machines. We have long been the leading promoter of mind machine technology, high-tech self-meditation gear and other personal development and relaxation modalities. This new website will help customers connect with us. We are now in the process of revamping our online shopping experience and will roll out an entirely new shopping system in the immediate future," says Fred Williams, spokesman for Mind Machines.
Mindmachines.com is a leading promoter of light and sound devices and clearinghouse of mind machine technology information, support and brainwave entrainment gear. For more information about mind machines, visit their website at mindmachines.com.