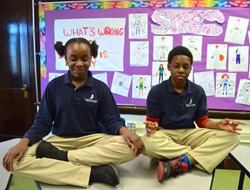 In an era where children enter the schoolhouse with unprecedented levels of stress, PHA is excited to be piloting an initiative aimed at supporting students to understand and to channel their energies in constructive ways.-Jed Lippard, Head of School PHA
Somerville, MA (PRWEB) April 16, 2015
Recognizing that students in all schools experience stress, the Prospect Hill Academy administration seeks to equip its students with tools and strategies to balance their emotions and increase their engagement in learning through the partnership with Ivy Child. Ivy Child provides 24 mindfulness classes each week at the Prospect Hill Charter School in Somerville as part of a unique campus-wide mindfulness program for all students and staff. All students participate in targeted mindfulness based learning and are acquiring skills to help them become more aware, attentive, and focused within and outside of school. Incorporating mindfulness into the curriculum is part of the school's commitment to meeting the complex social-emotional needs of all students.
"We are thrilled that mindfulness is being recognized by more education systems as an important tool for children to lead healthy, sustainably successful lives," said Rose Pavlov, founder of Ivy Child. "Our programs in other school districts have been effective in reducing student stress and increasing their constructive coping skills. We are confident that the results will be the same for the Boston and Somerville schools." Ivy Child has been successful with their curriculum in select Worcester schools and internationally and is excited about the introduction of their mindfulness curriculum in Somerville.
Jed Lippard, Head of School, comments: "In an era where children enter the schoolhouse with unprecedented levels of stress, PHA is excited to be piloting an initiative aimed at supporting students to understand and to channel their energies in constructive ways. We hope that the strategies they learn while immersed in mindfulness studies will translate into more purposeful engagement in their other classes as well as outside the walls of school."
If you walk into a mindfulness classroom at Prospect Hill Academy, you will likely find the light turned down and students practicing belly breathing or engaged in various yoga poses. Students also engage in journaling to communicate their experiences and challenges with the Ivy Child instructors so that their sessions can be better tailored to the needs of each student.
"Mindfulness education is a gift that allows students to develop the skills to find peace within themselves despite the stressors in their lives. It has been inspiring to see students using what they are learning as they face challenges during the school day," says Erin Moulton, Upper Elementary Campus Principal.
About Ivy Child International: (Ivy Child) is a non-profit organization working to enhance the social and emotional well-being of children worldwide by recognizing their multicultural needs, and using education rooted in positive psychology as a uniting force to inspire resilience and leadership. Ivy Child develops innovative programming for campuses and community sites which feature yoga, mindfulness, meditation, music and art. Learn more about SUPPORTING Ivy Child's work.
Ivychild.org
To learn more, please contact;
Rose Pavlov, Founder
rpavlov(at)ivychild(dot)org