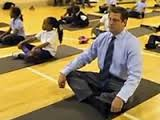 There's a whole body of literature in neuroscience today explaining why this works. We don't have time to wait. It's changing kids' lives. It's transforming teachers. It's transforming schools. And we see it in our own community now. -Congressman Tim Ryan
Worcester, MA (PRWEB) May 26, 2015
Mindful Superheroes Congressman James P. McGovern of Massachusetts, Congressman Tim Ryan of Ohio, Author of Mindful Nation and Inner city students at Claremont Academy will be featured for an event on the power of mindfulness and how schools and communities can use mindfulness to unlock children's learning potential.
Claremont Academy of Worcester Public Schools is the innovation incubator for Ivy Child International leading the inner city movement in urban mindfulness education. The school has implemented the daily practice of mindfulness through Ivy Child International's acclaimed mindfulness based learning program, which focuses on working with cross cultural populations both with students and staff.
Ivy Child International is pioneering work in the mindfulness movement to directly impact the quality of life for our kids and in our communities. Mindfulness is a movement that is gaining both awareness and support, especially in the corporate, education and healthcare fields. It is fundamentally about building emotional intelligence, leadership and future leaders and workforce by providing mindful based learning education for kids and communities.
The Mindfulness in Urban Education Summit will be held at 3pm on May 27, 2015 in Claremont Academy, Worcester Public Schools, Worcester, MA featuring Mindful Superheroes Congressman Tim Ryan of Ohio, Congressman James P. McGovern of Massachusetts, Inner City High School Students and Ivy Child International Mindfulness Youth Program Graduates Miranda Matias and Jennifer Tran. The summit is aimed at educating a broader audience in the community on the benefits of mindfulness by bringing together experts and youth involved in Ivy Child's mindfulness programs.
Life happens in the present moment, not in yesterday's worries, and not in tomorrow's what ifs. Imagine a world where every child learns how to 'mind the moment.' Minding the moment means celebrating the here and now. It means recognizing emotions as evolving and constantly changing to become aware of how thoughts and feelings impact behavior. Ivy Child's programs are grounded in research and proven approaches. By providing children tools of mindfulness, meditation and yoga, mindfulness teaches them how to gain better control of their emotions. By quieting the worries of the mind, creating happier people, and create positive classroom environments for learning.
Ivy Child International is also hosting the first adopted United Nations International Yoga Day through their second annual New England Mindful Kids Yogathon on June 21st from 1-5 PM at Worcester State University's John Coughlin Memorial Field. This Worcester based non-profit is encouraging participants to soar to new heights of health and happiness with the theme "Every Child is a Superhero."
About Ivy Child International: Ivy Child is a non-profit organization working to enhance the social and emotional well-being of children worldwide by recognizing their multicultural needs, and using education rooted in positive psychology as a uniting force to inspire resilience and leadership. Ivy Child develops innovative programming for hospitals, healthcare centers, schools and the community, which feature yoga, mindfulness, meditation, music and art. Learn more about SUPPORTING Ivy Child's work.
To learn more, please contact;
Rose Pavlov, Founder
rpavlov(at)ivychild(dot)org