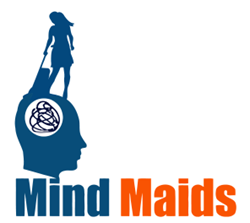 The goal is to make sure that anyone who needs supports receives it by any means necessary.
Seattle, WA (PRWEB) March 27, 2014
Mind Maids is pleased to announce the launch of their new online counseling website http://www.mindmaids.com.
Mind Maids is an online counseling website geared to those who are unable or uninterested in attending traditional therapy. Mind Maids makes great effort to ensure privacy, professionalism, and continuity of care where ever life takes you.
Mind Maids is a non threatening, tongue in cheek, approach bringing levity to a very serious relationship. "Our goal is to let people know that counseling doesn't have to be scary," founder Richelle Ruder, MSW, LICSWA goes on to say "As a Veteran I know that service members often find it difficult to ask for help within their chain of command. With the number of deployments increasing it is difficult for them to stay in counseling. I wanted to create a space for them and others to get the help they need from wherever life takes them."
Mind Maids services includes free journaling and free peer support forum, email advice, phone, instant messaging and video sessions. "The goal is to make sure that anyone who needs supports receives it by any means necessary." Richelle continues "The staggering rise in deaths by suicide is unacceptable. I know that preventative support early on can help decrease these numbers." Richelle runs a private practice in Washington State where she sees individuals and couples using traditional therapy.
When asked if there are any limits to online counseling verses traditional therapy Richelle added "More and more therapists are offering online support for their clients. Studies are showing that online therapy is just as affective as in person traditional therapy. It really depends on the therapists experience and comfort level using technology based interventions. Some clients require a higher level of monitoring and medication management, it is up to the clinician to utilize best practice and ethical standards to ensure that those clients are referred for appropriate care if needed."
Mind Maids professionals are all trained and educated to provide support via the internet. Mind Maids counselors and coaches are highly educated and a strategic effort has been taken to ensure the greatest diversity in experience and expertise.
People hire house keepers to clean up their homes, Mind Maids helps to clean up your mind, your relationships, your life. To learn more about this service or to sign up for services, visit http://www.mindmaids.com.
About Mind Maids:
Mind Maids is an online support site offering advice, guidance, and proven methods to increase your mood and relationships, while decreasing depression, anxiety, and problem behaviors. The quirky play on Maids and Cleaning is an attempt to relieve the stigma that counseling support often yields. Life Get's Messy, Let the Professionals Help.