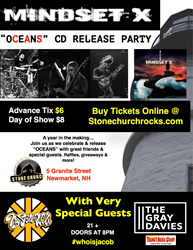 "There is no better example of a hardworking local band than Mindset X. These guys are talented musicians." -Donna Halper (credited with discovering the band, Rush)
Portsmouth, NH (PRWEB) August 25, 2015
The most recent release by New Hampshire locals Mindset X, "Oceans," takes listeners on a journey, following the life of fictional character Jacob. The story is meant to connect people from different points in life, to show that everyone goes through similar struggles. For over ten years, Mindset X has been creating diverse music promoting the idea of simply being yourself. This atmospheric heavy trio with a hit of art rock has a sound that results from influences such as the Foo Fighters, Shinedown, Pink Floyd, and Rush.
Mindset X - Saturday, August 29, 2015
The Stone Church Music Club
5 Granite St
Newmarket, NH 03857
http://www.stonechurchrocks.com
21 + / $6 in advance, $8 at the door
Tickets here
"There is no better example of a hardworking local band than Mindset X. These guys are talented musicians, and I always look forward to hearing what they will come up with next. Unlike some bands that just recycle older material, Mindset X is always creating new music for their many fans." -Donna Halper (credited with discovering the band, Rush)
"Oceans" was recorded with the assistance of Grammy Award winner Jay Frigoletto at OHM Studio and Metronome Studio. John Wesley of Porcupine Tree and Paul Bielatowicz, and Simon Fitzpatrick contributed guitar solo and The Carl Palmer [Emerson, Lake & Palmer] Band can be heard as guest vocalists. Additionally, Bielatowicz will be seen on stage for one of his featured solos on the night of this release show.
For more information, images, or to arrange for an interview, please contact Melissa Infurna at Powderfinger Promotions: melissa(at)powderfingerpromo(dot)com.
Powderfinger Promotions–Independent Radio Promotion and Publicity. Since being founded in October 1994, Powderfinger has come to be regarded as a top indie radio promotion and publicity firm with ties across North America.