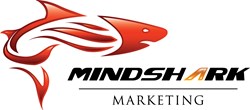 Our software platform is very efficient and starts at a cost of only $300 per month. Most other automation softwares start at $1000 for similar levels of emailing and automation
Toronto, ON (PRWEB) November 07, 2013
Today SEO linking building is definitely no longer sufficient to yield consistent lead generation for a business. A comprehensive mix of digital strategies is required to generate ongoing leads. This typically requires high quality content, SEO, PPC, Social marketing, combined with a lead nurture process that is managed through a marketing automation software system. When the latter is implemented, a successful Inbound marketing campaign can be put into place.
Mindshark has developed such a program for SMBs. A typical complete Inbound marketing campaign can cost anywhere from $1500 on the low end to $5000+ per month. This is significantly lower than most Inbound agencies who are charging starting fees of $5000 per month.
"The key to our ability to generate such effective and economical marketing is that we have partnered with strong vendors whose focus is also geared towards SMBs", says a product director at Mindshark. "Our software platform is very efficient and starts at a cost of only $300 per month. Most other automation softwares start at $1000 for similar levels of emailing and automation."
Companies who have started to see that their lead flow is not consistent due to major Google changes, and unsuccessful attempts at SEO should contact Mindshark for a free overall assessment and strategy consultation. Get in touch today here and book and appointment.
About Mindshark Marketing
Mindshark Marketing is a leading Inbound Marketing firm assisting thousands of companies of all sizes to maximize their marketing campaigns through the use of digital strategies. The agency, a Google Certified Partner, is Rated #1 SEO Company in North America, and holds an A rating with the Better Business Bureau. The agency also provides wholesale digital marketing services to other Digital Agencies as a backend supplier. With offices in Toronto, New York, Delhi, Sydney and Manila, the company services its clients with high efficiency. Mindshark reviews span all industries and geographies. Direct and indirect clients include Rogers, Netapp, Acrodex, Bell, & Porsche.