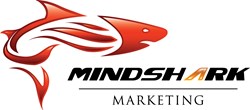 Toronto, ON (PRWEB) November 08, 2013
With Inbound Marketing and Content Marketing being the big buzzwords in the marketing industry today, it can get quite confusing for businesses to understand what exactly these terms mean. According to Mindshark, Inbound marketing is simply the process of generating inbound leads through various strategies whereby prospects are funneled into a company's lead nurturing process. The key component behind a lead nurturing process is the marketing automation vendor software which is being used. There are dozens of major software vendors offering solutions. Mindshark provides some perspective below.
"When it comes to Automation vendors, the market leader is clearly Marketo," says a product manager at Mindshark. "They have been leading the space and continue to introduce new cutting edge features. Their solutions start around $2000 per month for the mid tier software, and thus it is more geared towards mid sized and enterprise companies."
"Full inbound marketing campaigns can cost a firm upwards of $20,000 per month. For smaller businesses a simpler solution is required. Alternatives such as Hubspot and Blu180 present viable options for small and midsized firms looking to implement Inbound Marketing automation at a more conservative budget. Typical software costs with these types of solutions start as low as $300 per month for small database sizes. As the feature set and database size increase, the cost also increases in parallel."
Many companies who use a CRM require the Marketing Automation Platform (MAP) to integrate with their CRM. For such requirements a mid to upper end solution is typically required. Some platforms which are geared towards smaller firms actually come with a built in CRM for lead management. Blu180 has two solutions, the lower tier one being a turnkey MAP and CRM in one starting from $300 per month.
As the space matures more vendors are popping up. Mindshark expects to see more vertical focused vendors emerge with specialized features catering to specific business types or industry verticals.
For further details on marketing automation vendors, contact Mindshark Marketing to get a free consultation and assessment with recommendation on which MAP is best suited for your business.
About Mindshark Marketing
Mindshark Marketing is a leading Inbound Marketing Agency assisting companies of all sizes to maximize their marketing campaigns through the use of digital strategies. The agency, a Google Certified Partner, is Rated #1 SEO Company in North America, and holds an A rating with the Better Business Bureau. The agency also provides wholesale digital marketing services to other Digital Agencies as a backend supplier. With offices in Toronto, New York, Delhi, Sydney and Manila, the company services its clients with high efficiency. Mindshark reviews span all industries and geographies. Direct and indirect clients include Rogers, Netapp, Acrodex, Bell, & Porsche.