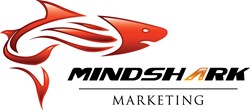 By far blogging and website optimized content seem to be the most prevalent type employed, with infographics and video increasing rapidly
Toronto, ON (PRWEB) November 08, 2013
With content marketing and inbound marketing being the major focus for online marketers today, it becomes important for businesses to understand what are the most effective content marketing strategies which yield the best results for inbound marketing in terms of quality lead flow. Mindshark has examined various strategies that have been employed by its different clients and provides some insight into the most effective methods.
"Our team has been producing a wide variety of high quality content for our clients over the last few years," says a product director at Mindshark. "We've seen success across many different types of content. By far blogging and website optimized content seem to be the most prevalent type employed, with infographics and video increasing rapidly."
The director went on to list out their top list of recommended content types and tactics:
1) authority blogging
2) targeted niche guest blog posting
3) relevant infographic creation & marketing
4) video creation & marketing
5) social group creation and discussion / engagement
6) targeted email marketing
7) Ebook & PDF collateral creation
With the amount of content out online today, much of it is lower quality. We are suffering from what some call 'infobesity' and in order to stand out to your prospects, it becomes important to use rich media and high quality content so that the content engages and has impact.
To receive a free strategy consultation on what content types would work best for your type of business, get in touch with Mindshark today here.
About Mindshark Marketing
Mindshark Marketing is a leading Inbound Marketing Agency assisting companies of all sizes to maximize their marketing campaigns through the use of digital strategies. The agency, a Google Certified Partner, is Rated #1 SEO Company in North America, and holds an A rating with the Better Business Bureau. The agency also provides wholesale digital marketing services to other Digital Agencies as a backend supplier. With offices in Toronto, New York, Delhi, Sydney and Manila, the company services its clients with high efficiency. Mindshark reviews span all industries and geographies. Direct and indirect clients include Rogers, Netapp, Acrodex, Bell, & Porsche.About Mindshark Marketing