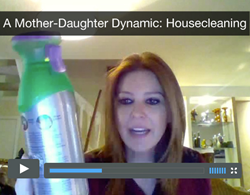 Fast, reliable online shopping may be transformative for the home cleaning category, especially given how comfortable this generation is with online transactions.
San Francisco, CA (PRWEB) May 09, 2014
While strongly influenced by their mothers' housecleaning habits and attitudes, today's young women demonstrate that they expect to get housework done in a new way. A recent MindSwarms study of women age 25-41 shows that this generation often feels guilty that they aren't meeting the housekeeping standards their mothers set, so they're eager for product innovations and time-saving methods to help bridge the gap.
Video and detailed report from the study available for free download.
One of the driving differences between today's young women and their mothers is time – many interviewees express concern that because of time constraints, they aren't able to live up to their mothers' standards of cleaning.
In an effort to save time, many women explain that they utilize online shopping for household necessities. MindSwarms project manager, Emily Hubbard, says, "Fast, reliable online shopping options may be transformative for the home cleaning category -- especially given how partial this generation is to online transactions."
Young women today prioritize:

Convenience (wet wipes instead of mops and rags)
Efficiency (all-in-one over single-purpose products)
Good results (brand loyal for products that work better)
Safety (preferring organic or natural products)
Ease of purchase (expect online shopping access)
About MindSwarms
MindSwarms is a disruptive digital market research platform for gathering video insights whereby consumers get paid to answer questions via smartphone/tablet camera or webcam. MindSwarms is a dynamic startup based in San Francisco conducting research studies all over the world, including the US, UK, France, Germany, Italy, Spain, Japan, India, China and Brazil. Clients include Nike, Sonos, Skullcandy, Virgin, Intel, Pitney-Bowes and Google, to name a few. The platform allows researchers to get video feedback from consumers in their home, store, gym, workplace -- anywhere -- fast. See more at blog.mindswarms.com or email sales(at)mindswarms(dot)com.