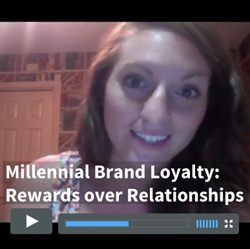 Millennials have redefined customer loyalty to be more self-centered.
San Francisco, California (PRWEB) June 11, 2014
A new MindSwarms study shows that for millennial shoppers, brand loyalty revolves around user-centric transactional benefits that are fleeting and unemotional, whereas their parents' loyalty is seen to be a dynamic built on personal and emotional, long-lasting relationships.
Video and detailed report from the study available for free download.
Millennials say they are hugely impacted early on by online shopping and have redefined the terms of customer loyalty to be more self-centered. Many explain that most of their shopping interactions are with "faceless" companies online, and that they don't feel that they know the companies they are buying from.
June Ye, MindSwarms project manager advises, "It's valuable for retailers to understand that for millennial shoppers, customer loyalty occurs as early as the moment consumers start gathering information." Surveyed participants explain that they seek out brands online, easily research products, and get personal assistance when they need it.
About MindSwarms
MindSwarms is a disruptive digital market research platform for gathering video insights whereby consumers get paid to answer questions via smartphone/tablet camera or webcam. MindSwarms is a dynamic startup based in San Francisco conducting research studies all over the world, including the US, UK, France, Germany, Italy, Spain, Japan, India, China and Brazil. Clients include Nike, Sonos, Skullcandy, Virgin, Intel, Pitney-Bowes and Google, to name a few. The research service allows researchers to get video feedback from consumers in their home, store, gym, workplace -- anywhere -- fast. See more at blog.mindswarms.com or email sales(at)mindswarms(dot)com.