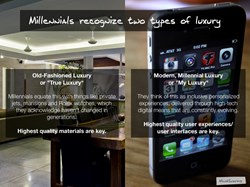 Seamless user experience and personalized services are redefining Millennial perception of luxury.
San Francisco, CA (PRWEB) September 24, 2013
MindSwarms, a digital market research platform delivering authentic consumer feedback via video, recently conducted a research study looking at the relationship between Millennials and the concept of luxury and how that relationship has changed compared to their parents' generation. Older generations associated luxury with exclusivity and limited access; Millennials, however, experience luxury via inclusivity and broad access.
"Our online research tool is built to provide authentic video insight from any demographic group in a rapid fashion," says Kalara Schuster, VP of Sales and Marketing at MindSwarms. "We saw this study on Millennials as a way to continue conversation around an immensely important consumer group."
The video clips gathered via MindSwarms show Millennial perception of luxury evolving from a static product to dynamic experience, from owning ultra-expensive goods to instead enjoying a quality-rich lifestyle. Most respondents conceded that tech has played a big role in cultivating the change: grabbing a Groupon deal for spa services or using the Uber app to reserve a private ride. Seamless user experience and personalized services are redefining Millennial perception of luxury. The highlight reel and full report for the Millennials and Luxury study are available on the MindSwarms blog.
About MindSwarms
MindSwarms is a disruptive digital market research platform whereby consumers get paid to answer questions via smartphone/tablet camera or webcam. We're a dynamic startup based in San Francisco conducting research studies all over the world, including the US, UK, France, Germany, Italy, Spain, Japan, India, China and Brazil. Clients include Nike, Sonos, Skullcandy, Virgin, Intel, Pitney-Bowes and Google, to name a few. Our platform allows researchers to get video feedback from consumers in their home, store, gym, workplace -- you name it -- fast. See more at mindswarms.com or email sales(at)mindswarms(dot)com.
Contact
Kalara Schuster
VP of Sales and Marketing
MindSwarms Inc
kalara(at)mindswarms(dot)com