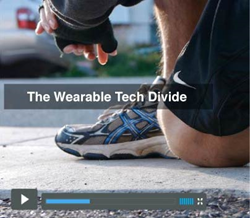 For some, wearable technology fits well with their current values and behaviors. For others, there is tension regarding where to draw the line with their relationship with tech.
San Francisco, CA (PRWEB) April 03, 2014
As the field of wearable technology advances rapidly, Americans are trying to come to terms with the role of these devices in their personal lives. A recent MindSwarms study suggests that consumers are firmly divided into two camps: enthusiasts and rejectors.
Video and detailed report from the study available for free download.
MindSwarms Senior Project Manager, Ryan Brill, notes that "Although both groups demonstrate interest in staying connected with their bodies (particularly in regard to fitness), we found that opinions differ dramatically on the specific role that wearables should play."
Developers will need to consider how to design wearable technology to be aligned to the values of a wider spectrum of consumers.
Five Implications:

Wearable fans and rejectors share the common goal of wanting to be more connected to their bodies and the moment, yet have polar opposite opinions about the role of computing in that journey.
The wearables audience segmentation appears binary at the moment: people are clearly in one camp or the other, with no shades of grey in between.
Wearables have the ability to be welcomed into consumers' personal space. And, surprisingly, there doesn't appear to be any fear about the misuse or abuse of that information amongst fans.
The fact that wearables are beginning to be described in very human terms may mean people are emotionally ready to accept computers as a genuine relationship partner versus just a pure tech tool.
There may be tension building between those who embrace wearables as an extension of the themselves, and those who continue to see wearables as an enemy of human instinct.
About MindSwarms
MindSwarms is a disruptive digital market research platform for gathering video insights whereby consumers get paid to answer questions via smartphone/tablet camera or webcam. MindSwarms is a dynamic startup based in San Francisco conducting research studies all over the world, including the US, UK, France, Germany, Italy, Spain, Japan, India, China and Brazil. Clients include Nike, Sonos, Skullcandy, Virgin, Intel, Pitney-Bowes and Google, to name a few. The platform allows researchers to get video feedback from consumers in their home, store, gym, workplace -- anywhere -- fast. See more at blog.mindswarms.com or email sales(at)mindswarms(dot)com.