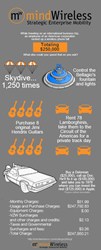 "We review millions of invoices each year as a company and this was the largest bill that we have ever seen in one month...," said Kevin Whitehurst, Co-CEO/Co-Founder of mindWireless.
AUSTIN, TEXAS (PRWEB) July 24, 2013
In what ended up as a modern-day corporate cautionary tale, an employee of a major American corporation set off on a business trip across Europe and Asia. Upon return, the employee was notified of a Verizon bill totaling nearly a quarter of a million dollars — $247,850.21 to be exact.
While traveling through eight countries from March 11 through April 10, 2013, the employee used her Blackberry to send an email with an important presentation attachment. Unfortunately, the attachment was well over the 10-megabyte limit set by her company's email server.
When the Blackberry failed to send the email it continuously retried, effectively turning the first 10 megabytes into a gargantuan 14 gigabytes of data usage. Since her mobile plan allowed for just 2 gigabytes of international data, she quickly went into overage.
Fortunately, her company uses mindWireless to manage and optimize corporate mobile plans. The company sent the bill to mindWireless to audit and develop an action plan. Knowing that the astounding bill could have easily been avoided, the experts at mindWireless moved quickly to help resolve the issue.
After two months of discussion, mindWireless got Verizon to reduce the charges by 98.4%, the amount that would have been due if the employee had been using the proper plan for her international corporate travel. The agreement was finalized last week.
"We review millions of invoices each year as a company and this was the largest bill that we have ever seen in one month. This was a tough lesson for her and her company, but it is a great example of why employees must be made aware of available options, and why making use of these options is so critical," said Kevin Whitehurst, Co-CEO / Co-Founder of mindWireless and the Treasurer of Telecom Expense Management Industry Association or TEMIA.
Talking to her wireless support group or carrier ahead of her trip, she would have been able to switch to an unlimited global data plan suited to her travel needs. There is, of course, a cost associated with adding an international travel feature.
"If the employee had added the international feature she needed to her line and then never traveled again, it would take more than 812 years to accrue the same charges she did in just one month without it," remarked David Wise, Co-CEO / Co-Founder of mindWireless.
To avoid nasty surprises on your phone bill when traveling internationally — for business or pleasure — mindWireless offers 10 phone management tips on its blog.
For leading brands, mindWireless reduces wireless expenses significantly, drives leading-edge mobile strategy and delivers pain-free device provision. Learn more or join a webinar at http://www.mindwireless.com.
About mindWireless:
mindWireless helps Fortune 1000 companies manage their wireless devices and usage through technology and help desk solutions. Founded in 2000, mindWireless is the oldest and largest pure wireless expense management firm and has become a leader in the corporate mobility management market with services deployed internationally. For more information, visit http://www.mindwireless.com.
###