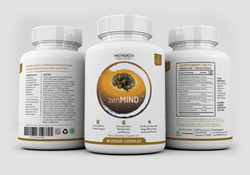 Love yourself enough to live a healthy Lifestyle.
Sarasota, FL (PRWEB) February 27, 2017
Mind Your Zen is proud to announce the launch of three new dietary supplements for brain health. The new natural supplement company is now introducing Zen Mind, Zen Mood, and Zen Sleep. All of these formulas use natural ingredients to help individuals support their mental and physical wellbeing.
Mind Your Zen is an innovative dietary supplement company that is breaking into the industry with their new line of specially designed formulas created to help promote mental wellness and supports healthy brain function. Each of the three new dietary supplements uses natural ingredients to help individuals live healthier lives, achieve total wellness, and reach their potential. Zen Mind, Zen Mood, and Zen Sleep all help support different aspects of brain health to help individuals achieve overall wellness.
"I started this company with the goal of helping people on their journey to health by providing the highest quality and most effective supplements on the market," says Hafiz Muhammad Ali, Founder of Mind Your Zen. "We aim to help people find their Zen, whether it be through clearer mental focus and memory, improved mood and outlook, or even just a better night's sleep."
Zen Mind is Mind Your Zen's signature formula. This product is a nootropic, or cognitive enhancer, which is designed to help individuals improve their cognitive function by increasing mental alertness, enhancing cognitive speed, and supporting memory. Zen Mind can help individuals reach their full potential through peak mental performance. This formula contains ingredients such as Ginkgo Biloba, a natural herb that has been shown to support memory and cognitive speed, and St. John's Wort, a plant found to be beneficial for mood support.
The other two products help support other aspects of mental wellness for a balanced approach to brain health. Zen Mood contains natural ingredients like B-Complex vitamins and chamomile concentrate which help reduce stress levels and promote a more positive outlook to naturally enhance one's mood, while the third supplement, Zen Sleep, is a natural sleep aid that is non-habit forming. Ingredients in this formula include Melatonin, which helps control sleep and wake cycles, as well as Phellodendron Root Powder, a natural herb which is used to help calm the mind. Overall, the formula works to help ease the individual to sleep naturally so he or she can get a full night's rest and wake up refreshed.
"These three distinct formulas all help improve different aspects of an individual's mind, which can have a significant impact on a person's bodily health as well," says Hafiz Muhammad Ali. "The best part is, Mind Your Zen is using powerful ingredients straight from Mother Nature to help people improve their energy and mental focus naturally without the harsh side effects of prescription medication."
The three supplements are now available for purchase on the company's website or through Amazon. Prices vary for each product. For more information about Mind Your Zen or to learn more about Zen Mind, Zen Mood, or Zen Sleep, visit the company's website.
About MindYourZen:
Mind Your Zen is committed to providing the highest quality supplements on the market. By helping people maximize their mental performance, improve their mood, and nurture a positive outlook, Mind Your Zen advocates for healthier living choices in our local and global communities.
With our natural, safe, and effective dietary supplements, we aim to provide customers with the support they need to increase their potential and find their Zen.