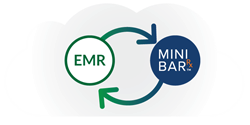 We know that efficiency and reliability are key objectives for MEDENT customers," says MinibarRx CEO Jeff Ulanet. "That's why syncing MinibarRx with MEDENT makes perfect sense.
GAITHERSBURG, MD (PRWEB) August 30, 2016
#1 EMR MEDENT turns to MinibarRx SMART vaccine system to help providers increase efficiency and reliability
When it comes to choosing a vaccine refrigeration system, providers want assurance that their fragile vaccine inventory will be stored safely. Rising vaccine prices—with some recommended vaccines exceeding $150 for a single dose*—underscore the need for improved vaccine storage and handling.
While basic temperature monitoring has been around for decades, every physician knows that temperature is not the only serious challenge when it comes to maintaining vaccine inventory. The American Academy of Pediatrics (AAP) reports, "Vaccines are among the top overhead expenses for the pediatric practice."
MEDENT Partners With MinibarRx for a Solution
How can a practice manage costs while ensuring that patients get the full range of vaccines they need? MEDENT, rated #1 EHR in the nation by Medical Economics, is teaming with MinibarRx to offer its EMR/EHR users a solution.
MinibarRx is a fully automated medical-grade vaccine refrigeration system, purpose-built with SMART technologies to improve the way healthcare providers purchase, store, and administer vaccines. If the name sounds familiar, that's because MinibarRx is a new venture of Minibar Systems, the worldwide leader in SMART refrigerator technology for the hospitality industry. MinibarRx has just been launched in the U.S. to much fanfare.
Now, MEDENT is syncing its EMR/EHR systems with MinibarRx to simplify the vaccine management process. With full interoperability, vaccine information flows seamlessly from the MinibarRx cloud-based system to the MEDENT EMR/EHR, capturing required data such as vaccine lot number and expiration date.
"We know that efficiency and reliability are key objectives for MEDENT customers," says MinibarRx CEO Jeff Ulanet. "That's why syncing MinibarRx with MEDENT makes perfect sense. MinibarRx fully automates the vaccine management process to increase operational efficiencies, reduce the risk of error, and promote patient safety. We couldn't be more excited to offer this integration to MEDENT's EMR/EHR users."
Patented SMART Technology, Automated Cost-Savings
The industry's first "internet of things" (IoT) platform for medical-grade refrigerators, MinibarRx is a truly "smart" refrigerator and is leased to physicians for a small "hardware as a service" (HaaS) monthly fee. How does it work? MinibarRx connects the physician's EMR/EHR to a patented in-office refrigerator and a cloud-based inventory and temperature management platform. A user-based PIN is required to access the machine and to dispense a vial or syringe.
From there, the MinibarRx system acquires the dispensing data in real time—utilizing its to-the-unit-dose sensing technology for each patient encounter—and completes the EMR visit record automatically for the office staff. Simultaneously, the inventory records are updated and compared against reorder points, placing orders for replenishment when necessary. Usage data and inventory levels are always available, aiding staff in the management of restocking, returns, and expired products.
With subscriptions starting at just $99/month**—and no upfront costs—MinibarRx is an affordable solution to the increasingly complex challenges facing providers of vaccines and injectables:

Medical-grade refrigeration with patented design protects and monitors injectables, with storage capacity of up to 500 vials and syringes
10:30 a.m. delivery & in-person refilling by MinibarRx bonded personnel ensure that inventory is organized and accounted for
Real-time electronic supplier connectivity gives physicians online ordering and contract-price monitoring, just like the big pharmacy systems—ensuring that MinibarRx users get the best prices at the best terms and never overpay or receive the wrong orders
Cloud-based portal and phone app provide real-time inventory tracking, utilization management reporting, expiration notifications, and a full suite of management tools to assist physicians in optimizing their purchases
Pay-as-you-go financing option lets physicians pay only for the injectables they use each month, rather than for the full invoice, allowing them to control payments and enhance cash flow
"Our providers value the advanced level of efficiency they achieve with MEDENT," reports MEDENT VP George Cuthbert. "We help make providers' lives easier, but most importantly, we support them in improving quality of care. As one of the first EMRs to offer full MinibarRx integration, we feel that once again MEDENT is out in front providing state-of-the-art capabilities."
The Power to Drive Better Healthcare
According to the World Health Organization (WHO), only clean water is more effective at preventing disease than vaccination, a "cornerstone of good public health." Yet, the New York Times is not alone in reporting that the financial burden associated with providing vaccines has some providers cutting back on the vaccines they offer, and others not offering them at all.
MinibarRx shares MEDENT's goal of enabling providers to efficiently manage their practice and improve health outcomes. "Our mission at MinibarRx is to provide transformational technologies to the vaccine and refrigerated drug marketplace to help solve the underutilization of vaccines in the U.S.," says Ulanet. "In just a few short years, we believe that one of the most advanced technologies inside a physician's practice could be the refrigerator. And wouldn't that be an exciting and low-cost way to prevent disease?"
See the CDC Vaccine Price List for examples of vaccine prices, including CDC and private sector costs.
** Assumes a three-year contract, with an additional 2.75% on purchases up to $3,400/year.
About MinibarRx
MinibarRx is a stand-alone joint venture of affiliates of Minibar Systems (the world's largest maker of SMART refrigerated platforms to the hospitality industry, serving over 50 countries) and affiliates of InstantDx (a pioneer in electronic prescribing and healthcare transaction services). Leveraging the power of both companies, this state-of-the-art refrigerator connects the physician's EMR and practice management system to an in-office refrigerated drug-dispensing system. MinibarRx is available immediately in the Mid-Atlantic region, with the remainder of the U.S. to launch over the next 6–9 months, and overseas in 2017.
###
Contacts:
Jeff Ulanet, CEO
MinibarRx
Phone: 855-544-2122