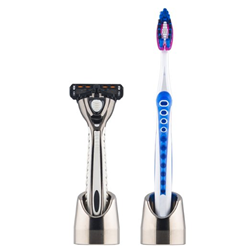 "Toothbrushes and razors are tools we use daily, so they deserve a better home than the sink counter or a wash cup."
San Francisco, California (PRWEB) June 15, 2015
Following its successful debut on Kickstarter, the FLYT Solo Stand is now available to the general public on GoFLYT.com. Unlike traditional stands, the Solo elevates your razor or toothbrush to an upright position, increasing airflow and allowing it to fully dry for optimal hygiene and performance.
Designed and crafted in the San Francisco Bay Area, the Solo is precision machined from a solid piece of aerospace grade 6061-T6 aluminum for superior corrosion resistance. On the bottom, engraved channels draw moisture away from the stand and prevent water from pooling at its base. Utilizing a unique step design, the Solo fits almost any razor or toothbrush handle, granting flexibility to its users. Many may even find additional applications for it, such as for use as a pen or stylus holder. The Solo has a nickel plating and brushed finish for added durability. It comes with a lifetime guarantee.
With the increasing popularity of razor subscription services, such as Dollar Shave Club and Harry's, and the growing interest in wet shaving, FLYT sees the introduction of their Solo Stand into the market as timely and complementary to these industry changes. For consumers who seek both style and value, the Solo offers a way to elegantly display razors while increasing the longevity of their blades and improving the experience.
Inspiration for the innovative razor stand and toothbrush holder came to FLYT Founder Ivan Wong when he noticed many people lay razors on the sink, which causes rust, or place toothbrushes in cups, which results in buildup.
"Toothbrushes and razors are tools we use daily, so they deserve a better home than the sink counter or a wash cup," said Wong. "I was frustrated with the solutions available, and I thought, 'What if a simple piece could improve the experience?' I decided to create a minimalist stand that is useful, resonates quality and doesn't need to be replaced, ever."
To fund this idea, Wong and his teammates took to the popular crowdfunding site Kickstarter in November 2014. Within three weeks of launching, the Solo was 100% funded. By the end of its campaign in January 2015, it had garnered 748 backers and $37,673, reaching 502% of its funding goal.
The Solo Stand is now available for $25 on GoFLYT.com and Amazon.com in limited quantities.
About FLYT
FLYT is a design and engineering team based in the San Francisco Bay Area that creates minimalist pieces that elevate experiences.