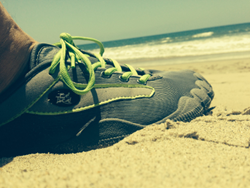 Los Angeles, CA (PRWEB) June 30, 2014
With inventory finally in stock, BE REAL Shoes have gone on tour over the last few weeks. "We've taken the shoes to New York, Seattle, Hawaii, Malibu, and Santa Monica. Everyone tells us how much they love the shoes," said CEO Jason Applegate.
Podiatrists, biomechanic scientists, naturalists, athletes, cross fit trainers, military trainers, and runners alike are raving about the comfort, design, and durability of the shoes.
"We've had some great reviews," said Applegate.
BE REAL Shoes is proud to launch its new website with the support of leading podiatrist, Dr. Ray McClanahan, DPM, BS Ed of Oregon who endorses the natural and what he describes as "healthy, foot-shaped" designed BE REAL Shoes!
"We were beyond excited when we found out Northwest Foot & Ankle Correct Toes added BE REAL Shoes to their Natural Footwear Certified shoe list on their website," said Applegate.
The Chief Medical Consultant for the Air Force Marathon, Dr. Mark Cucuzzella MD, FAAFP & Lt Col US Air Force Reserves had the following to say, "BE REAL Shoes offer excellent durability, agility, and protection during all types of athletic activity. The foot is allowed to function in a natural way as the shoe allows the toes splay-enhancing spring, balance, and stability on the ground..."
To coincide with the website launch and to celebrate Independence day, BE REAL Shoes will be running lots of contests on social media this week.
"Make sure to connect and follow us on Facebook, Instagram and Twitter for a chance to win some great prizes," said Applegate.
BE REAL Shoes relies on a patent-pending approach to creating an incredibly lightweight material, providing protection and traction while coming in at a fraction of the cost of the competition's shoes. The shoes are designed to work seamlessly in every running environment. For the price of one shoe, you get a perfect trail shoe, crossfit shoe, and water shoe. The shoes are made in the USA utilizing ecofriendly manufacturing techniques enabling the rubber soles to be 100% recyclable. For more information, visit http://www.berealshoes.com.