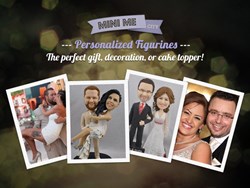 I was traveling through the Far East, and in one of the quaint shops there was a figurine that caught my attention. It was so artfully done.
Montreal, QC (PRWEB) January 13, 2014
On January 20th, Mini Me City will launch a Kickstarter campaign that offers the most unique and personalized gifts ever seen on the most popular crowdfunding platform. Mini Me City specializes in crafting three dimensional, custom-made figurines for special occasions such as weddings, birthdays, anniversaries, graduations, holidays, and more. Each Mini Me is sculpted from polymer clay, and is made to custom specifications, including hair, skin, and eye color, along with elements including clothing, pose, accessories, pets, custom objects, name plates, and more. The figurines can measure from 6 to 7.5 inches tall (approx. 15-19 cm.), with the figure's head slightly larger than normal proportions to emphasize facial traits and details.
Once someone backs the Mini Me City project on Kickstarter, and sends in their photo, a skilled artist hand-sculpts the backer's very own personalized figurine and ships it to the backer, wherever they may be in the world. All backers can build their own fully-customizable Mini Me from scratch and figurines can be ordered through the Kickstarter campaign for just $210.
Simar El Nounou, founder of Mini Me City, was inspired to create these great personalized works of art while traveling abroad.
"I was traveling through the Far East, and in one of the quaint shops there was a figurine that caught my attention. It was so artfully done," states Simar. "I thought to myself, how great would it be if everyone could customize a small statue that looked liked them, a friend, or loved one?"
Beyond figurines, Mini Me City also specializes in creating one-of-a-kind caricature drawings. Similar to ordering a figuring, the Kickstarter backer simply includes pictures and any suggestions for the drawing along with their order. Once the caricature is complete, the customers will receive a high-resolution image file that can be printed on various material. Caricature drawings can be made with or without backgrounds, and work great for invitation cards, posters, signboards, and corporate gifts.
Mini Me City's campaign will launch with the goal of raising $20,000. Backers looking to get a personalized gift can pre-order a caricature or their very own Mini Me when the campaign launches on January 13th.
To see the Mini Me City gallery, and to learn more about the upcoming Kickstarter campaign, visit http://www.minimecity.com, Like mini-me city on Facebook, and follow on Twitter @MiniMeCity.
About Mini Me City
Mini Me City creates custom figurines, cake toppers, and caricatures for wedding, birthdays, graduations, or any special occasion in a loved one's life. Mini Me City's highly talented sculptors and professional artists create stunning works of art to any customer specifications. A gift from Mini Me City is as personalized as a gift can be. To see the gallery of Mini Me Sculptures, and to order one for a someone special, visit http://www.minimecity.com.