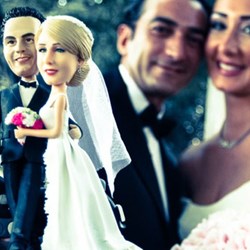 We're so excited to give engaged couples a new way to decorate their weddings.
Montreal (PRWEB) February 05, 2014
With spring and summer wedding preparation in full swing, Mini Me City is gearing up to make sure that brides, grooms and gift givers alike have access to some of the most personalized decorum on the market. The company launched its custom cake toppers on Kickstarter in late January, and they continue to offer special pricing for those who pre-order the handcrafted figurines that look just like miniature versions of the people they are modeled after.
"We're so excited to give engaged couples a new way to decorate their weddings," said Simar El Nounou, the project creator. "With wedding season coming soon, it's a great time for them to order their Mini Me. It's as simple as backing our campaign and submitting a photo for our artists."
Nounou's company specializes in creating customized figurines that stand at approximately six to 7.5 inches tall and are crafted to look identical to the photos submitted. Mini Me City accommodates everything from custom attire and props to hairstyles and jewelry.
"This is your Mini Me," said Nounou. "The sky's the limit, and we can customize it to make it the perfect cake topper or prop at your special day. There's nothing I love more than seeing the figurines in wedding pictures and knowing that they added that special touch for so many couples."
With just 16 days to go, Mini Me City's Kickstarter campaign is ending on February 22. There's still plenty of time to pre-order a Mini Me, but early bird pricing opportunities are limited. Right now single figurines can be pre-ordered for as low as $185 and couples figurines start at $325.
While the figurines are great for weddings and cake toppers, these aren't the only uses Nounou intends for Mini Me City. Her company also suggests using the figurines for commemorating other life events, such as graduations or birthdays. Her team has made figurines clad in athletic attire and even modeled after super heroes. Backers can also choose a caricature drawing from Mini Me City artists if they so choose.
To back the Mini Me City Kickstarter campaign, visit https://bitly.com/MiniMeCityKS. Like Mini Me City on Facebook, and Follow on Twitter @MiniMeCity.
About Mini Me City
Mini Me City creates custom figurines, cake toppers, and caricatures for wedding, birthdays, graduations, or any special occasion in a loved one's life. Mini Me City's highly talented sculptors and professional artists create stunning works of art to any customer specifications. A gift from Mini Me City is as personalized as a gift can be. To see the gallery of Mini Me Sculptures, and to order one for a someone special, visit http://www.minimecity.com.