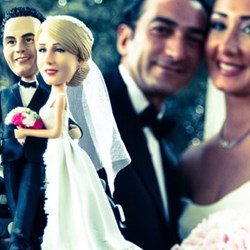 The concept is pretty simple; any picture of yourself can be turned into a 3-D statue that looks strikingly like you!
Montreal, QC (PRWEB) February 21, 2014
Mini Me figurines bring that certain flair to memorable events that many people want to capture in memory forever. Not only are they great for the fun couple who desires the wedding of their dreams, but Mini Me also crafts individual birthday and business card holder figurines, trophies, and quirky caricature drawings. With less than one week left to fund Mini Me's Kickstarter campaign, backers can still acquire these custom-made figurines for their special day or loved one.
By delivering originality through customization to a wedding or birthday cake, among countless other options, the figurines help make that special day even more monumental. Simar El Nounou is the creative mind behind Mini Me City, and she promises limitless requests and as many personal touches as possible on the handmade figurines. For example, if the customer has a love for superheroes, Mini Me City can incorporate a favorite superhero costume, pose, or prop into a figurine. The figurines also make great gifts for friends or family struggling to find something special enough for their favorite individual or couple.
"My idea was to create memories in a unique way that could put a smile on anyone's face," exclaims Nounou. "The concept is pretty simple; any picture of yourself can be turned into a 3-D statue that looks strikingly like you!"
Mini Me City prides itself on using only quality material and expert craftsmanship for every individual one-of-a-kind figurine. The specifications vary for the Mini Me's, but they are usually about 6 to 7.5 inches tall. The head will generally be slightly larger than normal to emphasize the traits depicted in the submitted photo. Each head is custom made, specific to skin tone, eye color and hair color.
Backers can still get a completely customized Mini Me figurine for as little as $185 on Kickstarter up until the campaign ends, on Saturday, February 22, 2014. There is also the option of caricature drawings for party invites, business signs or even wedding posters, starting at $49. The artist will draw the customer's face on the pre-made design of their choice, capturing the detail from the picture submitted.
To view the Mini Me City gallery, and to learn more about pledging to Mini Me's Kickstarter while in the last few days of the campaign, please visit http://bit.ly/MiniMeCityKS. Check out the Mini Me City website at http://www.minimecity.com, Like Mini Me City on Facebook, and follow Mini Me City on Twitter @MiniMeCity.
About Mini Me City
Mini Me City creates custom figurines, cake toppers, and caricatures for wedding, birthdays, graduations, or any special occasion in a loved one's life. Mini Me City's highly talented sculptors and professional artists create stunning works of art to any customer specifications. A gift from Mini Me City is as personalized as a gift can be. To see the gallery of Mini Me Sculptures, and to order one for a someone special, visit MiniMeCity.com.