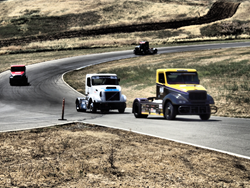 Blooming Prairie, MN (PRWEB) May 27, 2015
The ChampTruck World Series just wrapped up its second event of the season in California, and starting this weekend, the third race will air live on both Minimizer websites.
To check out the action from Pikes Peak International Raceway, all fans need to do is log on to minimizer.com or minimizerracing.com.
The heavy-duty truck part manufacturer has two teams in the all-new series – Team Tested, driven by Trevor Kruckeberg, and Team Tortured, driven by Brad Klemmensen.
After the first two events of the season, the red Tested 63 truck is eighth while the black Tortured 54 truck is sixth.
The action kicks off this Saturday at 11:15 a.m. MDT. It continues Sunday at 9:30 a.m., with the Podium race set for 3:45 p.m.