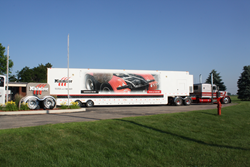 "It's exciting, because our team is growing all the time." - Minimizer CEO Craig Kruckeberg
Blooming Prairie, Minnesota (PRWEB) November 25, 2015
Minimizer, best known for its line of Tested and Tortured heavy truck products, continues to grow more than three decades after its inception.
Since the beginning of 2015, the company has added four new territories to its distribution map, bringing the total number to 16.
"We train our distributors to sell Minimizer products, but we've got so many distributors now that we need more territory managers to make it manageable. So we broke up our map into smaller territories," Minimizer CEO Craig Kruckeberg said. "We've also brought on board two regional managers. It's exciting, because our team is growing all the time."
Minimizer started in 1984 with Dick Kruckeberg selling the company's now-infamous poly fender out of the back of his truck. Today, the Minnesota-based business offers numerous heavy truck products, and is once again on pace to break its own sales records.
"We're proud to be an American family-owned company for more than three decades, but we're even more proud to hire American workers, which are the backbone of our country," Kruckeberg said.