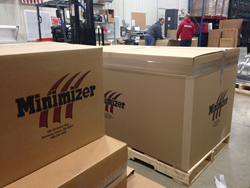 "We've been shipping on time more than 99 percent of the time," Minimizer CEO Craig Kruckeberg said. "We need to challenge ourselves."
Blooming Prairie, Minnesota (PRWEB) October 29, 2015
Minimizer's shipping numbers are so good that its customers will soon get their Tested and Tortured products faster than ever before.
Minimizer CEO Craig Kruckeberg announced his company is switching from a five-day shipping window to a four-day shipping window.
"We've been shipping on time more than 99 percent of the time," Kruckeberg said. "We need to challenge ourselves."
Minimizer experienced just one late shipment in the third quarter of 2015.
"It was a mud flap order that took a little bit longer," Kruckeberg said. "Other than that single order, we've been perfect."
The change will take place during the first quarter of 2016.
"This initiative is yet another way Minimizer continues to push ourselves to exceed our customers' expectations," Minimizer VP of Operations Jim Richards said. "We will continue to look at improving our customer satisfaction in the future on this and other customer-oriented objectives."