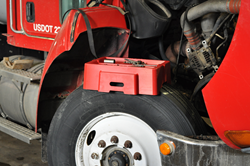 "Convenience is the name of the game." - Minimizer CEO Craig Kruckeberg
Blooming Prairie, MN (PRWEB) August 04, 2015
Minimizer's Maintenance Line is designed to make life easier, and mechanics agree.
The Single Tire Work Bench has been backordered since its release in June, but Minimizer has now restocked distributors shelves to meet demand.
"Working on trucks is hard enough, so we developed a product that makes it a little easier," Minimizer CEO Craig Kruckeberg said.
The bench sits on a single tire, holding the tools during a repair job. It also works on flat surfaces.
"Convenience is the name of the game, and the bench is something customers have been asking for," Kruckeberg said. "It saves space so you have more room to operate."
The Single Tire Work Bench fits a wide range of tire sizes, and can also be inverted and used as a carry bin.
For more information, and to watch for new Minimizer products, go to http://www.minimizer.com.